By Gary R. Rasberry
grasberry@dailystandard.com
The way Trevor Krogman was pitching on Thursday, the Parkway Panthers didn't need to give him a lot of run support.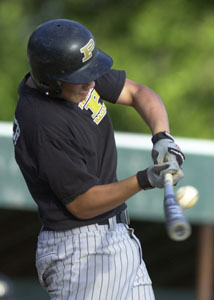 But they did, anyway.
Krogman fired a no-hitter as the Panthers put the game away early and kept adding to the scoreboard in a 19-0 five-inning win over Celina at Eastview Park.
The win puts Parkway at 12-3 on the season and Celina falls to 2-9 with the loss.
"It's pretty good from our number-three pitcher," said Panther coach Mike Moorman. "We have three pitchers who can be aces for a lot of teams, in my opinion. Trevor went out and threw strikes and had the change-up working tonight. He came up big in a league game, trying to lock up the number one or two seed at sectional. "I give all the credit to Trevor. He was nursing a thumb injury from last night (while sliding into a base). He came out and pitched a helluva game," added Moorman.
Celina coach Ron Fortkamp had very little to say about the game, but took time to praise Krogman's effort.
"He pitched one helluva ballgame," said Fortkamp. "We have a nice hitting team. We've been averaging 7-8 hits and 7-8 runs (a game). He just totally shut us down. Let's give a lot of credit to him."
The Panthers, who collected 12 hits against St. Henry on Wednesday, wasted no time in putting the game away, scoring four runs off four hits in the top of the first. Jordan Heckler doubled to lead off the game and scored on Derik Snyder's singled. Snyder scored on an error and Jensen Painter brought home Steve Hays and Krogman with a two-run single.
Hard hits were throughout the lineup as five batters had multi-hit games. The hardest hit came from nine-hole batter Rikki Covarrubias. After being brought back to the batter's box after the umpire ruled he didn't make an attempt to avoid getting hit by an Andy Sell pitch, Covarrubias took the next pitch over the scoreboard in left for a home run, triggering a three-run second inning for the Panthers.
Parkway hit the 10-run mark in the fourth with another run after scoring two in the third.
The run-rule was reinforced in the fifth as the Panthers sent 14 batters to the plate, scoring nine times on just four hits as Celina needed three pitchers in the inning.
"Hitting is contagious," said Moorman. "We've been sticking to what we've been doing. The kids have gone out and attacked the ball early in the count. We've been aggressive in the hitting and aggressive on the basepaths. That's why we're on this little roll (three straight wins) right now."
"I don't know how many hits Parkway had," said Fortkamp, "But they hit everything we threw. Hats off to Parkway."
Krogman, meanwhile, cruised. After allowing Nick Gray to reach on an error in the bottom of the first, Krogman struck out five of the next six batters before having Sell reach on an error to start the third. After hitting John Bonvillian, Krogman shut down any chance for Celina to score.
Snyder was 3-for-4 with four runs batted in for the Panthers and Jordan Heckler was also 3-for-4 and scored four times. Alex Shaffer, Painter and Covarrubias each added two hits for the Panthers.
Parkway returns to action on Saturday with a doubleheader against Paulding at Don Black Field. Celina is back in action tonight, traveling to Wapakoneta.
Phone: (419)586-2371, Fax: (419)586-6271
All content copyright 2005
The Standard Printing Company
P.O. Box 140, Celina, OH 45822