By Margie Wuebker
mwuebker@dailystandard.com
MOULTON -- Roger Roediger has a philosophy when it comes to strawberries -- the best are the ones you pick yourself.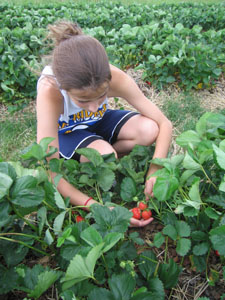 He must be right judging from the steady stream of customers showing up these days at Roediger's Berry Farm, a U-pick operation located 1 1/2 miles north of Moulton on Kruse Road in Auglaize County.
The majority, who come from Auglaize, Mercer, Shelby, Logan and Allen counties, share a common goal -- plucking plump fruit for an array of desserts, jams and jellies. The hunt often ends with red fingers and filled buckets.
"The berries are beautiful this year," New Bremen resident Jean Coffin announces as she and her husband Gordon lift nicely rounded containers to the checkout station table. "They taste so much better than the ones in the store, and the price ($1.10 per pound) isn't bad either."
The berries will be cleaned, sugared and placed in freezer containers for use throughout the year. Strawberries atop a stack of homemade pancakes are a special treat, particularly on cold winter days. Picking began last week at the three-acre operation. The season arrived later than usual this year due in large part to the weather.
"Strawberries tend to be rather finicky when it comes to temperature," the 73-year-old Roediger says. "And this has been a strange year in terms of weather -- cool, hot and now cool again."
Ideal temperatures range from 75 to 80 degrees with lots of sunshine. Prolonged cool and cloudy weather does more than delay the ripening process. It can affect the flavor and sweetness of the berry. An uninterrupted string of days with readings around 90 degrees literally bakes unpicked berries. Wet conditions, which have not been a problem this year, promote disease but have little effect on flavor contrary to what some customers believe.
Strawberries require a great deal of work -- far more than most customers realize. After several freezes in late autumn and early winter, dormant plants are covered with straw to protect them from frigid temperatures.
"We get about a three-month break during the worst of the winter," Roediger says. "Then the whole thing starts over again."
Workers return to the fields in late March to remove straw mulch from atop the plants. Some remains around the plants; the rest goes into pathways. Irrigation pipes carry water to drip tape under each row assuring adequate moisture. They also supply water for sprinklers that lessen the effect of inevitable frosts in mid- to late-May when plants are in bloom or approaching the flowering stage.
Ask each of the six seasonal employees which job they dislike most and the answer is unanimous -- "pulling weeds," a seemingly endless task that continues before, during and after the harvest.
"A plant remains productive for three years," Roediger explains. "After that the runners or daughter plants compete for sunlight, the berries get smaller and the likelihood of disease increases."
New plants do not yield fruit the first year because workers move up and down the rows plucking blossoms. The process builds bigger rows and better runners resulting in a larger crop for the following year.
"The first year's crop is always the best," Roediger says. "Both yield and berry size decrease each year thereafter."
Plowing up old June-bearing plants and replacing them with new ones is a process that has taken place regularly since the berry farm opened to the public in 1982. Roediger points to a field where such activity will commence once the current season ends. Cover crops add organic matter, loosen the soil and break up any disease organisms over the course of three years.
Rows of "day neutral" plants in raised beds represent an experiment started two years ago. The plants, which do not rely on hours of sunlight like June bearers, produced fruit last year until a Nov. 6 frost. Some of the berries are taken to farmer's markets throughout the area while the Roediger family enjoyed the rest.
Roediger enjoys strawberries as much as his customers, all of whom have their own ideas about what to pluck. Former Celina resident Dee Rish of Kenton looks for vivid red fruit. The size does not really matter since the majority will wind up in freezer jam. St. Marys resident Bob Hall and his daughter, Leslie, like medium-sized ones for pie.
Four-year-old Josh Martin of Lima demonstrates his own method with a plump berry in each hand. "You got to look real close on the top, the bottom and all around," he says "Don't put any mushy ones or ones bugs have been chewing on in the box 'cause your mom won't like it."
Whispering lest the pretty brunette across the row hear, he adds, "My mom says strawberries are good for me. I don't believe it because they taste a whole, whole lot better than green beans or yucky spinach."
Current hours are 7:30 a.m. to 6 p.m. Mondays through Fridays and 7:30 to 11:30 a.m. Saturdays.