By Gary R. Rasberry
grasberry@dailystandard.com
With a good stretch of league games coming up, the key for the Grand Lake Mariners was to save some wear and tear on some arms.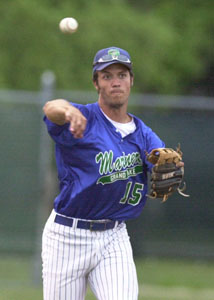 This usually is the opportune time for some players who pitched in high school before heading to college and play in the field to get the old soupbone retuned for some mound work.
That was the case on Friday as Grand Lake looked to end a small two-game losing streak with a game over the Ohio Storm.
Wayne Bond, who didn't pitch in the spring while playing the outfield, fired six solid innings, five of which were no-hit baseball, as the Mariners picked up a 6-2 win over the Fostoria-based Storm at Jim Hoess Field. The Mariners improve to 6-3 in all games.
Bond, a freshman at Indiana State, had not thrown since his senior year in high school until throwing in an earlier Mariner non-league game, came up strong in his six innings to get the win. Bond walked three batters and struck out two, but did not let a Storm batter reach via a hit until the sixth with a clean single. "I didn't pitch at all this year," said Bond. "Frenchy (Mariner assistant coach Scott French) coached me my senior year in high school. In non-league games, they don't want to use the starting pitchers, so they give the position players the chance to go out there.
"Usually, I only pitch about an inning. I was kind of worried when I got past that second inning if I would be able to hit the strike zone anymore. I took a little bit off my velocity and kept it in the strike zone," added Bond.
French, running the team in the absence of head coach Mike Stafford, was happy to see Bond stay strong long enough to keep the bullpen down.
"We needed an effort like that from Wayne," said French. "With all those league games coming up, we needed to give our pitchers a day off. We didn't expect this. We were hoping for 3-4 innings and he gave us six. That picked up the ballclub a little bit."
After Bond, another former pitcher came on. Celina grad Scott Boley came on in the seventh and gave up both Storm runs in his one inning of work. Brad Seddon pitched the final two innings to earn a save.
The Mariners scored their runs in pairs in the first, second and seventh innings. Both runs in the first came via the wild pitch. With one out, Dusty Hammond singled and went to third on Ben Gaal's double. Storm pitcher Adam Gumpf uncorked a wild pitch to score Hammond for the first run, then after picking up the second out, fired another wild pitch to score Gaal to make it 2-0.
In the second, Kris Moorman and Bryan Witt singled to lead off the inning. Ryan Hallapy looked to bunt the runners over, but reached base safely for a single allowing Moorman to score. Keena singled home Witt for the other run in the inning.
The other two runs in the seventh came when Gaal and Ayala came home on a misplayed ball up the middle.
After getting three hits in Thursday's league loss to Delaware, the Mariners pounded out 13 hits on Friday.
"I hope that's the start of the whole summer," said French. "We didn't take batting practice tonight to give them a change of scenery. They came out and looked ready to play."
The top three batters in the batting order -- Keena, Hammond and Gaal -- combined for a 6-for-15 night with three runs scored. Hallapy was 3-for-4 while Witt went 2-for-4.
The Mariners host the Southern Ohio Copperheads for a three-game series this weekend at Jim Hoess Field. The teams will play a doubleheader today at 4 p.m. with the wrapup game set to start on Sunday at 2 p.m.
Phone: (419)586-2371, Fax: (419)586-6271
All content copyright 2005
The Standard Printing Company
P.O. Box 140, Celina, OH 45822