By Nancy Allen
nallen@dailystandard.com
Lagging statewide enrollment in a new USDA program designed to increase habitat for quail and other wildlife may open the program to Mercer and Auglaize counties.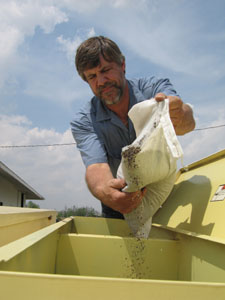 The Northern Bobwhite Quail Habitat Initiative, called CP33 for short, pays landowners to take agricultural land out of production and plant 30- to 120-foot strips of native prairie grass and wildflowers along the edges of agricultural fields.
USDA pays the farmers 100 percent of the county soil rental rate for 10 years, a one-time $100 per acre bonus and 90 percent in cost share funds for the seed, herbicide and labor to plant the strips. Some counties also have nonprofit conservation groups that give landowners additional incentive payments.
A total of 35 of Ohio's 88 counties were approved for federal funds to enroll 14,200 acres in the nationwide CP33 program. But so far just 3,440 acres have been enrolled in 24 counties since enrollment began in January, according to USDA statistics as of June 14. Just four northern counties, Marion, Wyandot, Defiance and Williams, which already had good quail habitat, were made eligible for the program.
Mercer and Auglaize counties are among the 53 counties in the state that were excluded from the program. "We are not getting signup as quickly as we thought," said Dorothy Leslie, chair of the Ohio Farm Service Agency committee. "We are definitely talking about shifting some of the acres up from the southern counties to the northern counties."
Leslie said the state FSA committee could decide as early as July or August, when it re-evaluates the state acreage figures, whether or not to open the program up to counties originally labeled ineligible.
This is good news, according to Mercer County resident Gary Steinbrunner. He was among a group of local folks who unsuccessfully lobbied to get Mercer County approved for CP33 funds. Steinbrunner is the habitat chairman for the Mercer County chapter of Pheasants Forever, a non-profit conservation organization that protects and enhances pheasant and other wildlife populations.
"When we found out Mercer County wasn't going to be approved for the program, I wasn't surprised because we have removed so much habitat and don't have many quail," he said. "But there was already talk when we found out that we weren't going to get it that there was still hope if the other counties didn't use their acres."
Steinbrunner said he had four landowners lined up to enroll land into the CP33 program before finding out Mercer County was not chosen as an eligible county.
Once seen all over Ohio, 90 percent of the state's quail population perished due to the blizzard of 1978. This coupled with the accelerated clearing of brush- and grass-covered areas for farmland caused quail populations to suffer even more, said Luke Miller, an ODNR wildlife management project administrator.
Quail are nonmigratory birds that require grass and/or brush-covered areas to survive. Ninety percent of their lives are spent not more than 100 feet from brushy cover, Miller said. They will not move across open fields. The CP33 program seeks to establish habitat corridors along farm fields through which the birds can travel.
When determining which counties got CP33 funds, state officials picked counties that had the greatest possibility for success, which were those that already had quail populations and habitat conducive to supporting quail, Leslie said.
In neighboring Darke County, 248 acres has been enrolled in the CP33 program and 242 acres has been enrolled in Shelby County. But both of those counties already had significant quail populations and habitat to support the birds, unlike Mercer, Miller said.
"Southwest Ohio from Darke County down to Butler and Preble counties and over to Highland County is where the highest number of quail population is and has the best habitat," he said. "The division of wildlife does whistle counts in the spring to gauge the population. When we do them in Mercer County, we don't hear many quail."
John Kaiser, who works for the Darke County Soil and Water Conservation District, said he is worried that if Ohio does not use all of its CP33 acres, they will be shipped out of state. Iowa and Illinois already have used up all of their allotted acres for the program, he said.
"Certain states got a certain number of acres. Some of the big quail states like Missouri got 20,000 acres," he said.
Mercer County Farm Service Executive Director Chris Gibbs, who farms in Shelby County, enrolled some of his farmland in the CP33 program. He said he believes Mercer County farmers would take advantage of the program if it was made available.
The CP33 program is a conservation practice available under the Conservation Reserve Program (CRP).