By Shelley Grieshop
sgrieshop@dailystandard.com
Random drug searches at privately-owned businesses may be growing as company officials strive to provide safe environments.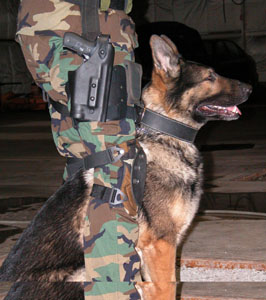 But not everyone is pleased: the Ohio chapter of the ACLU told The Daily Standard workers' rights also must be taken into consideration.
On Friday, about a half-dozen K-9 units from several area law enforcement departments convened at Classic Delight Inc. in St. Marys for a surprise search at the request of the company's owner. A small amount of marijuana and drug paraphernalia were found and charges are pending against three employees, St. Marys Police Chief Greg Foxhoven said.
"Reports on the findings will be sent to the prosecutor's office," he added.
Because the business deals with the packaging of food products for retail, the K-9's sniffed primarily in the parking lot and locker room areas, Foxhoven explained. This isn't the first time St. Marys officers were asked to perform a random search of a private business. About two months ago the same thing occurred at Goodyear Tire & Rubber Co. A small amount of marijuana was found there, too, he said.
Foxhoven calls the requested searches "positive moves" by businesses.
"They're sending a powerful message to their employees even if the searches don't yield much," he said. "I think it's great, it shows a lot of responsibility on the part of employers who want to create safe environments for their workers."
Molly Maxson, human resource manager for Classic Delight, said the company requested the action as part of a "continuing effort to keep the work place safe and healthy."
She said feedback has, so far, been good from workers and the community.
"I think most are generally pleased it was done," she added.
Classic Delight employs about 140 people.
The K-9 teams, from law enforcement departments in the surrounding area, each were accompanied at Classic Delight by a member of the company's management team, Foxhoven explained. When drugs and paraphernalia were hit on by the dogs in cars or lockers, a more detailed search began and workers suspected of carrying in the drugs were told of the findings.
Officers were within their rights to conduct a more thorough search once the dogs hit on something, Foxhoven said.
"It becomes probably cause at that point," he said.
An official with the Ohio ACLU in Cleveland stated that if company officials truly had reason to believe contraband was being brought in, the action may have been necessary. But he said these type searches tend to be abused in many instances.
"Companies do have the right to monitor their employees," said Jeff Gamso of ACLU's legal division. "But the fact that they invite police to come in and wander around doesn't mean the police have to come. I think they (police) ought not to take the invitation."
A search of a business at the request of the owner does not violate worker's rights, Gamso admitted, but added "it always makes me uncomfortable when I know the government is messing around in people's private affairs."
Foxhoven said his department will oblige companies whenever they can because he believes it's a service to the community.
"Some workers may not be happy about it," he said. "But maybe some of them should be thinking about giving up their drug life."
Phone: (419)586-2371, Fax: (419)586-6271
All content copyright 2005
The Standard Printing Company
P.O. Box 140, Celina, OH 45822