By Gary R. Rasberry
grasberry@dailystandard.com
LIMA -- After scoring just two runs in the first six innings, the Grand Lake Mariners batted around and brought in seven runs during the seventh inning to defeat the Lima Locos on their home field to post a 10-7 win.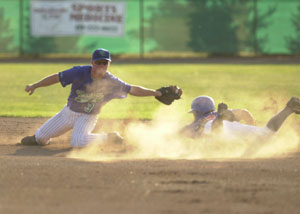 The Mariners maintain a share of the lead in the Great Lakes Summer Collegiate League with a mark of 6-2 (.750) while Lima, which had won its prior two games, falls to 5-7 in the league.
With the game tied at 2-all in the fourth, Lima took the lead in the bottom of the sixth when Sean Boley (Celina) singled home Mark Abro.
The top of the seventh started normally enough as Lima reliever Greg Dombrowski struck out Josh Eachues, but Bryan Witt was hit by a pitch and Ryan Keena singled to start a rally.
Scott Billak stepped up and grounded to shortstop Ryan Perry, who lobbed the ball to second baseman Galen Schumm (Parkway) for a potential double play. Schumm, however, bobbled the ball, leaving Keena safe and the bases loaded for pinch-hitter Scott Boley. Boley grounded out on a close play at first, but got Witt home to tie the game at 3-all. Michael Ayala singled home Keena and Billak before Ben Gaal was hit by a pitch. Dusty Hammond got an infield single to load the bases and Lima coach Rob Livchak called on Thomas Pemberton for a pitching change. Wayne Bond greeted Pemberton by clearing the bases with a double to make the score 8-3. Eachues, who led off the inning, ended the scoring by singling home Bond. In the inning, all but the final run was unearned and six runs came with two outs in the inning.
Needless to say, Mariners skipper Mike Stafford was pleased.
"I thought we had some good hitters and I was waiting for us to break out and have an inning like we did," said Stafford. "We did a lot of it with two outs. That's what I've been stressing to these guys. We need to get some two-out hits and put some pressure on the defense."
The inning turned Ross Liersman's tightly contested start to a win.
"He did extremely well," said Stafford. "I've seen Ross pitch a lot better than he had (Thursday). He got through with what he had. His slider wasn't working, so he strictly threw fastballs and curveballs. He just grinded it out, worked his butt off and gave us six innings.
Kevin Marrie came on for two innings, allowing one unearned run and striking out two. The Mariners got an insurance run when Ben Gaal stroked one over the fence in left-center for his first homer of the season to make it 10-4 as Brad Seddon came on to try and close things out.
But given some past games between the teams, especially the July 5 classic from last year when the Mariners blew a 6-0 lead in the ninth to lose 7-6, nothing was settled.
Jay Morrow, who was 4-for-4, started things with a single for the Locos and Mike Santowski walked to put runners on first and second. Pinch-hitter Dan Barker grounded up the middle, but Witt misplayed the ball, allowing Morrow to score to cut the Locos deficit to 10-5. Schumm, looking for a little redemption after the costly error, bunted for a hit and placed it perfectly between the mound and first base, scoring Santowski to make it 10-6.
Perry moved the runners up one base with a ground out and Bryan Chandler grounded to first base and through the legs of Ayala to score Schumm. Lima's rally was halted when Abro lined out to Hammond at second base to end the game.
"Lima's a good team. We always know we're going to have a good game when we come here," said Stafford. "I kind of had flashbacks (to last year's July 5 contest) in the ninth tonight. Don't take anything away from Lima. They don't quit and play hard every inning."
Bond had a big night for the Mariners, going 3-for-4 with two doubles and three RBI while Gaal added two hits.
The long stretch of games continues tonight as Indianapolis comes to Jim Hoess Field for a 7:15 p.m. tilt.

Notes: Longtime Celina High School coach Bruce Boley had the honor of throwing out the ceremonial first pitch at the game. Son Sean, a catcher-designated hitter for Lima, got the call to catch the ball with brother Scott looking on. ... Livchak was ejected in the ninth after arguing balls and strikes from the dugout. After getting tossed, the longtime Locos coach rushed out to get some colorful comments in about the way the game was called. ... Lima closer Rony Mercado, the top reliever in the league last season, appears to be done for the summer after suffering a severe foot strain. The Suffolk (Mass.) University pitcher was on crutches for the game and is reported to be heading home to Boston today. ... Marion Local grad Cory Luebke will get the start in tonight's game against Indianapolis.