By Ryan Hines
rhines@dailystandard.com
Grand Lake starting pitcher Cory Luebke looked strong in his debut start of the summer for the Mariners in a 4-2 win over Indianapolis at Jim Hoess Field on Friday night.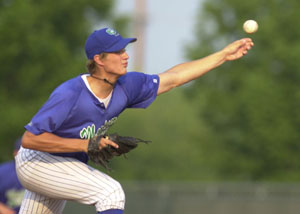 Luebke, a Maria Stein native and a member of the Ohio State baseball team, threw six innings allowing one unearned run on three hits with five strikeouts to get the win. Keegan Laycock threw three frames allowing one run on three hits for a save.
"I just wanted to go out and try and get some feel back for my pitches after having not thrown much recently," said Luebke, who had a strong fan contingent behind home plate rooting for the Flyers graduate. "I think that my arm needed the break and I'll get the feel back with each start I make as my velocity returns."
"Corey made his first start of the year after a few appearances in relief and it looked like he had all of his pitches going," said Mariners manager Mike Stafford, who was also celebrating his birthday on Friday. "He made them put the ball into play and the defense was able to make the plays behind him. He threw well and gave us six quality innings. I think that he probably could have come out for another inning, but we wanted to be cautious in his first start for us." Then Keegan comes in and shuts the door on them too, so I was happy with our pitching once again."
Armed with a nasty breaking ball and a strong fastball, Luebke kept the Indianapolis offense quiet while the Grand Lake offense picked up a pair of unearned runs in the second inning for a 2-0 advantage. Josh Dietz had a one-out, ground-rule double to centerfield and moved to third base on a wild pitch before Scott Billak drew a walk.
Ben Humphrey seemed to lift a routine flyball to rightfield but Indianapolis couldn't make the play allowing Dietz to score and putting runners at second and third base with a 1-0 lead. Josh Hula made it 2-0 for the Mariners with a RBI groundout scoring Billak.
"When you have the type of pitching that we have, it's huge for us to score runs early because it gives the pitcher that much more confidence and allows them to relax a little more," said Stafford.
Grand Lake struck for two more runs in the fifth inning when Wayne Bond and Ben Gaal reached base safely, on a walk and single, respectively. Dietz and Humphrey each had RBI singles to close out the scoring for the Mariners.
The Mariners now stand atop the standings at 7-2 in the Great Lakes Summer Collegiate League but you wouldn't know it by talking with Stafford.
"I'm not sure how many of these guys know that we are on top of the league right now and it doesn't matter because we're still going to go out and play like we always do," stated Stafford. "We approach it one game at a time and I think that's a good thing. I think the guys know that they are good and they just have to keep going out and proving it."
Phone: (419)586-2371, Fax: (419)586-6271
All content copyright 2005
The Standard Printing Company
P.O. Box 140, Celina, OH 45822