By Janie Southard
jsouthard@dailystandard.com
Mick Fowler builds reproductions of Immaculate Conception church and the West Bank lighthouse one match at a time.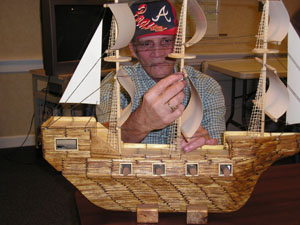 Using wooden household matchsticks, Fowler built a sailing ship 20 years ago and that began the hobby that has required hundreds of thousands of matches to build a couple hundred items.
"I take a handful from the box, light them all and blow them out. After they cool, I put them in an empty box and when it gets full, I clean them while I watch television," Fowler said Sunday afternoon as he shared his hobby with residents at The Gardens at Celina.
By cleaning Fowler means he twists the burnt sulfur off the tip, which leaves a smudge that he then uses to create designs on his projects.
The larger lighthouse, about four feet tall, took about 1,800 matches to build and the church required a whopping 7,500. Why use matchsticks?
"I saw a ship in a catalog in maybe 1985 that I wanted to try to build, just to have something to do. It needed wood two inches long and an eighth inch thick. I thought that's about the size of a kitchen match and, sure enough, it worked," said Fowler, a Celina resident who formerly worked at Fowler's TV in St. Marys before he became disabled in 1989.
He built that ship and then another and another as word got out that these intricate vessels were for sale. Not too long ago a friend asked if he could make a replica of I.C. church.
Fowler took several photos of the church from different angles and then made a pattern from poster board and cardboard, forming the sides, domes and steeple.
"It took me two months of working every day. I used a brass bell from my collection of brass for the main bell," he said gently ringing the main bell.
He built another I.C. church for a person who later decided she didn't have a place for the more than three-foot square reproduction. However, another person has purchased the church with the intention of donating it as a raffle prize at this year's I.C. Festival.
"No, I've never done arts and crafts or any kind of art in my life before I started making these things. Well, I did paint houses for a while, but I don't think that counts," he said smiling.
Phone: (419)586-2371, Fax: (419)586-6271
All content copyright 2005
The Standard Printing Company
P.O. Box 140, Celina, OH 45822