By Margie Wuebker
mwuebker@dailystandard.com
Search efforts resumed this morning in an effort to locate a 21-year-old Virginia man believed to have drowned Wednesday afternoon in the pond at Eastview Park in Celina.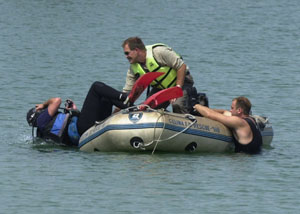 Melvin Dwayne Woodhouse, of Virginia Beach, disappeared beneath the water shortly before 3 p.m. while on an outing with girlfriend Angela Boyd, a resident of Celina Garden Apartments, and her two sons.
Local resident Janie Stammen, who was at the park with her children, heard Woodhouse scream for help and then saw him go under. She then ran to people on the beach asking for a cell phone. The 911 log indicates the initial call came in at 2:54 p.m.
Four people reportedly jumped into the water in an unsuccessful attempt to rescue the man, who possibly suffered some kind of muscle cramp, Celina Police Chief Dave Slusser said.
Roberta Whitman of Celina became aware of the situation when her 14-year-old daughter, Daisy McClain, began screaming about someone drowning. "I began looking near the shoreline thinking she meant a kid," Whitman told The Daily Standard. "Daisy pointed toward the middle of the lake telling me the black man she had been talking to earlier went under and never came up."
Whitman raced to the water and began swimming toward an empty intertube floating approximately 150 feet from shore.
"I kept diving hoping to find him," she said. "It's hard to see anything down there. I only reached the bottom twice and I could feel the current pulling me toward the back of the lake."
Yuvan Ramirez of Celina also jumped into the water upon hearing someone ask for a cell phone to call 911 after seeing a man disappear beneath the surface of the water.
"I had seen a man out there with an intertube so I swam in that direction," he said. "The water gets deep out there -- 20 feet or so -- and murky. There must be a good 10 feet of seaweed toward the bottom. I dove to the bottom and everything was black as night."
Boyd also heard screams while walking along the beach with her 7-year-old son. She immediately thought the drowning victim might be her younger 4-year-old son. He had been in the water with Woodhouse, whom she described as a strong swimmer. Someone apparently took the young boy to shore when he swam out to retrieve an intertube. There is no lifeguard at the pond and signs warn people they are entering the water at their own risk.
Whitman admitted losing track of time. The five to six minutes between reacting to her daughter's screams and hearing the wail of sirens seemed like an eternity, she said. Celina Police cruisers arrived first followed by Celina Fire Department vehicles. The department's dive team quickly donned gear and headed into the water approximately five minutes after the initial call, focusing their attention on an area 12 to 17 feet deep.
"Three witnesses marked places on the shoreline to give us a pretty good idea where he went down," Slusser said. "We called off the search around 8:30 p.m due to lightning and an approaching storm."
Divers had to contend with dense undergrowth estimated to be 3 to 4 feet tall near the lake bottom. Vegetation could be seen trailing from their oxygen tanks.
Swimmers were ordered out of the water and the road to the beach area was closed around 5:15 p.m. The area remains closed today as search efforts continue.
Local divers are being assisted by the Tri-County Dive Rescue Team from Buckeye Lake, Ohio, and Garrison, Ky. The team also came to Mercer County when Celina High School freshmen Greg Parker and Jonas Kahlig disappeared while boating on Grand Lake on April 8. Their bodies were recovered 13 days later.
Slusser has been in contact with the man's relatives and a former girlfriend, with whom he had a child. The Virginia Beach Police Department assisted in notification of family members after a check of his cell phone yielded numbers with that area code.
Boyd met Woodhouse, a disc jockey and deli employee, several months ago through a friend on the Internet. They communicated regularly and he came to Celina nearly two weeks ago.
"Melvin was a wonderful person and a wonderful communicator," Boyd says. "We talked about getting married, and he was in the process of finding a job here. I finally found the man of my dreams, and now he's gone."
This is not the first drowning at Eastview Pond. Zhen Ru Liu, a 30-year-old Chinese national student at The Ohio State University, was pulled from the water July 25, 1998, after searchers formed a human chain in 6 to 7 feet of water. She had come to visit friends in Celina during Lake Festival weekend.