By Ryan Hines
rhines@dailystandard.com
Grand Lake only had two innings in which it scored, but those two innings were more than enough to get past Lake Erie as the Mariners defeated the Monarchs, 10-4.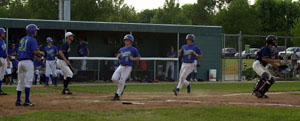 The Mariners (9-5) only scored in the third and eighth innings, but put crooked numbers in both frames. Grand Lake scored three runs in the third inning to erase a 2-0 deficit and then added six runs in the eighth to put the game out of reach.
It was a shaky start for Mariners starter Andy Delagarza in the second inning when he walked two Lake Erie players and both came around to score for the 2-0 lead.
In the third, though, Grand Lake responded thanks to the clutch hitting of Ben Gaal. Josh Eachues, Dusty Hammond and Ryan Keena loaded the bases on three straight singles and following the first out of the inning, Gaal came to the plate.
Gaal, who had a solo home run against Lima on Thursday, fell behind in the count 0-2 but lined a 1-2 pitch into the right-centerfield gap, clearing the bases while the Le Moyne College representative cruised into third base with a three-run triple. "He kept coming after me with a slider and he got one up in the zone and I was able to see it, stay back on it and drive it into rightfield," said Gaal. "I came into the at-bat just looking to get something elevated into the outfield for a sacrifice fly with the bases loaded to get a run at least but I was able to put a pretty good swing on it for a hit. It's been awhile since I've had a day like this (four RBI), since school ball but it feels pretty good."
Kurt Lauscher followed with a RBI double to score Gaal for a 4-2 Grand Lake advantage.
"We got off to a slow start but once we started to see the ball a little bit better, we started to take the ball to rightfield," said Grand Lake manager Mike Stafford. "Ben got a huge hit for us and then Kurt comes back with a double of his own for a four-run inning. Once we got the 4-2 lead, we never looked back. Once we got the momentum, we never gave it back and we were able to put the game away in the eighth inning."
Following the two-run Lake Erie second inning, Delagarza was in complete control with four straight scoreless innings while allowing just one more hit before giving way to Keegan Laycock out of the bullpen. Laycock was sharp in his two innings of scoreless work allowing one hit.
The Mariners offense put the game away in the eighth inning.
Lake Erie reliever Josh Ruhlman gave up back-to-back singles to Ben Humphrey and Josh Dietz and walked both Scott Billak and Eachues to force in a run. The Monarchs went to the bullpen again with Jeff Fischer, but he gave up a two-run single to Grand Lake pinch hitter Scott Boley to give the Mariners a 7-2 lead. Following a pair of strikeouts, Gaal struck again with an RBI single and Grand Lake tacked on two more runs on an error and wild pitch.
The Mariners are back in action again today and Sunday at Stark County for a pair of doubleheaders before returning home on Tuesday for a contest against the Lima Locos at Jim Hoess Field.
Phone: (419)586-2371, Fax: (419)586-6271
All content copyright 2005
The Standard Printing Company
P.O. Box 140, Celina, OH 45822