By Gary R. Rasberry
grasberry@dailystandard.com
With games now being win-or-pack up the gear situations, teams began to look for key performances to keep the ACME season alive.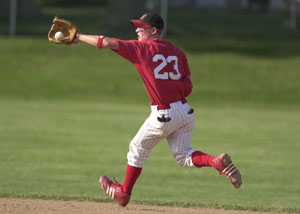 For St. Henry, it was a solid pitching performance.
For Parkway, it was a matter of finding an arm.
Regardless of situations, both teams live to play another day as both won their elimination bracket games on Tuesday at the Mercer County ACME Sectional in Coldwater.
Parkway, which has one regular starting pitcher injured and the other serving a two-game suspension, got just enough from a pair of pitchers to send Celina home for the season with a 15-8 slugfest win. St. Henry, on the other hand, needed just six shutout innings from Jay Woeste to end Fort Recovery's run with a 7-0 shutout in the first game on Tuesday.
The Panthers and Redskins will play in the second game at Coldwater tonight at approximately 8:30 p.m. The first game will be the winner's bracket final between Coldwater and Marion Local. The winner of the first game automatically qualifies for the district tournament. The loser plays the winner of the second game on Thursday at 6:30 p.m.

Parkway 15, Celina 8
The Panthers went into the game looking for arms. Ace pitcher Tyler Brickley began serving his two-game suspension after being ejected from Sunday's game with Marion after not making the attempt to slide into home against Flyer catcher Curtis Moeller, barreling over the catcher.
With other aces Jordan Heckler (injured and out for the rest of the tournament) and Trevor Krogman (pitched on Sunday in relief of Brickley), Parkway coach Mike Moorman went with freshman Ethan Hayes to try and get through the game.
Hayes went just four innings and walked five along the way, but he kept Celina's offense to a minimum to allow the Panthers to strike.
The Panthers looked to put the game away in the third after scoring one run in the second. After back-to-back walks to Alex Shaffer and Derek Snyder and an infield single for Steve Hays. Jordan Thompson took Nick Gray's first offering over the scoreboard in left for a grand slam to put Parkway up 5-0. Thompson added a two-run single in the fourth to finish the night 2-for-5 with six RBI.
"He's only a sophomore, but he plays like a senior," said Moorman of Thompson. "Day in and day out, he works hard. He's one of those kids you can count on tournament time in clutch situations. Once again, he showed that tonight."
Just when things looked down, Celina came back with four of their own in the bottom of the third. Celina brought two home on two fielder's choices and added a run-scoring single from Jim Fishpaw to get back to within one.
Parkway added a run in the fifth and again tried to blow the game wide open in the sixth with five runs off Fishpaw and Jordan Heuker.
Celina continued to find ways to score runs. Jensen Painter came in to pitch in the fifth after Hayes finally ran out of gas and gave up two runs in the fifth, a run in the sixth and had a bases- loaded jam in the bottom of the seventh as Celina tried to keep (Continued from page 1B)

the season going. Gray singled home Dustin Woods, but the relay through from short right field got to Thompson at the plate in time to tag out John Bonvillian to end the game.
"Ethan and Jensen really stepped up," said Moorman. "They came in and did what we needed them to do. Cant' say enough about our guys, they executed well (and) took advantage of Celina's mistakes.
"It's the long way to go (through the loser's bracket). Two more games and we'll be where we need to be. Tomorrow someone else will have to step up. That's happened all year. Hopefully it will continue."
"The best team won," said Celina coach Ron Fortkamp. "Hayes pitched a real nice ballgame. I don't know what he was throwing, but he kept us off-balanced. I think they're the team to go on and we'll do better next year."
Kyle Hamrick went 3-for-3 with two runs scored for Parkway. Steve Hays and Krogman each added two hits.
Gray went 3-for-5 for the Bulldogs. Fishpaw and Bonvillian each added two hits.

St. Henry 7, Fort Recovery 0
While the nightcap had plenty of offense, the first game came up with some decent pitching efforts.
None better was the mound work of Woeste. Woeste scattered three hits over six innings, walking just one and striking out five to keep the Redskins going. The only big threat to the shutout came in the sixth when the Indians loaded the bases with no outs thanks to singles from Bobby Rammel and Kevin Schoenherr and a walk to Chris Galdeen. Woeste worked out of the jam by striking out Steve Trobridge, getting Clint Tobe to pop out to third and Tony Diller to ground to Ryan Ranly at short, who lobbed the ball to Josh Werling at second for the force out. Kris Schlater came on in the seventh and got a big 4-6-3 double play to end the game.
"That's a little more fun," said St. Henry coach Joe Wourms, whose team was beat 5-1 by Marion on Saturday. "(Woeste) had a lot of strikes (36 of Woeste's 51 pitches were strikes). That's Jay Woeste baseball. he mixed up his pitches, had the hitters off-balanced all night. He threw everything for strikes -- curveballs, change-ups, fastballs. That was a great pitching performance."
It took the Redskins just three batters to bring in the winning run. With one out, Mike Gast tripled to the deepest part of the park. Jon Clune grounded deep enough at shortstop to allow Gast to score the first run of the game.
After two runs in the fourth and another in the fifth, the Redskins put the game away in the sixth, getting three unearned runs off Tribe starter Schoenherr and reliever Rammel. The first two runs came via errors while the last came on a base hit by Woeste, who was 2-for-3 with a RBI to help his cause.
Gast was the big hitter of the day, going 3-for-4 with two runs scored. Gast doubled and tripled to go along with a single.
Rammel had two of the Indians' three hits.