By Shelley Grieshop
sgrieshop@dailystandard.com
Teaching teenagers about sex, drugs and alcohol just isn't enough these days as the high-tech world invades our homes and schools.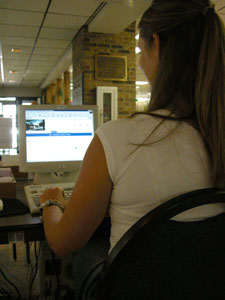 Cell phones, pagers, digital cameras, computers and the Internet pose their own risks to youths who seem to tackle the newest technology with little hesitation. Intentional or not, sometimes the use of these instant communication devices by our youth can be dangerous and even criminal.
"Kids today are willing to try things on computers ... in an effort to outdo each other," says Kyle Menchhofer, technology supervisor for the St. Marys City Schools district. "They're fearless."
Experts say 90 percent of school-age children use computers today and more than 58 percent (including 5-year-olds) use the Internet. Seventy percent of 10- to 12-year-olds regularly use e-mail.
Students today learn in virtual classrooms and read e-books via the computer, truly reaping educational benefits through high-technology. But some savvy youths take it too far, hacking their way into private corporate domains and leaving highly-trained system specialists scratching their heads. Parents are not only intimidated by their teens' ability to e-mail attachments or store numbers in a cell phone, they sometimes are just as ignorant as their children to what's legal and not legal in the cyber world.
Consider this recent local incident:
Eight St. Marys girls became victims of pornography in what they thought was a casual trade-off for alcohol and cash. A digital camera and a computer was all Chad Jenkins, now 23, needed to change the lives of the girls -- all under 18 -- who were willing to shed their clothes. The St. Marys man exchanged at least some of the photographs with another man in a competition to see who could obtain the most, according to St. Marys police.
Each girl now must live with the fear of knowing her semi-nude to nude photo could be circulating on the Internet for years to come. At least one of the girls has sought counseling.
Shareware programs like Napster and Live Wire offer peer-to-peer networking from one Internet user to another without a server to monitor activity. Famous for their controversial use to pirate music, these networks are now used frequently to share child pornography, according to St. Marys Patrolman Kim Reiher, who helped investigate the pornography cases in St. Marys.
And unlike most stereotypes, the girls involved in the local pornography ring were good students, popular at school and "from families you wouldn't expect," St. Marys Police Chief Greg Foxhoven added.
Jenkins was sentenced in February to four years and 11 months in prison for his actions.
The teens likely did not realize it is a felony for an adult (18 and older) to take or circulate nude pictures of a minor (under 18). In reality, an 18-year-old perpetrator and a 17-year-old victim could be classmates at school such as the case involving Ashley Hurlburt.
Hurlburt, a 2003 Memorial High School graduate and a girlfriend of Jenkins, was sentenced a week ago to three months in jail for circulating pornographic pictures of a 17-year-old girl she solicited in a chat room and convinced to pose nude. Hurlburt, who gave the photographs to Jenkins to mend a love quarrel, was 18 at the time the crime was committed and tried as an adult.
The teens reportedly were unaware their activity would land anyone in jail.
Reiher believes more should be done to protect juveniles from the dark side of the communication highway.
"I don't think we're doing enough to stop it. Every parent, every teenager should be educated about the dangers lurking out there on the Internet," Reiher said. "We scream up and down about underage drinking and seat belt use, but how do we as law enforcement stop this problem? I think we really have to depend on parents."
About three years ago, Coldwater Police Chief Gery Thobe partnered with officers from the Mercer County Sheriff's Department to create the Mercer County-Coldwater Internet Crime Unit to find child predators on the Internet. Thobe believes youths are more ignorant than parents think when it comes to protecting themselves when they surf the Net.
"Kids really think the Internet is a huge anonymous place where no one can ever find them," Thobe said. "Kids are a hell of a lot braver today but not always smarter."
These days the Internet Crime Unit spends most of its resources on education, preaching to various student and adult groups in Mercer County about Internet safety.
Most area schools require students, as well as parents, to sign forms each year promising to follow strict rules while on the Internet at school. Memorial High School provides the "Acceptable User Policy" to students. Although the form warns about releasing personal information, it would be impossible to list every illegal or immoral scenario a student might encounter, Menchhofer admits.
Despite an apparent need, a random check of local educational facilities turned up no in-depth programs that teach Internet safety to users of all ages.
Experts say children should be taught not to divulge any identifying information about themselves in chat rooms, blogs or instant messaging programs. Also, computers should never be placed in children's bedrooms out of parent's sight. Software programs are available to prevent children from surfing undesirable Web sites, but unfortunately "cyber geeks" find ways around that, too.
"Anybody can be victimized, anybody," said Reiher, an investigating officer for 16 years. "But at this stage in adolescence, kids are vulnerable. I hope what's happened here (in St. Marys) is an eye-opener for parents, maybe this will send a message."