By Gary R. Rasberry
grasberry@dailystandard.com
COLDWATER -- Coming into Wednesday, Coldwater and Parkway had differing goals that led to the same end.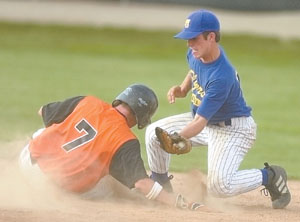 The Cavaliers wanted to get a win to earn an automatic spot in the district tournament without having to go deep into their pitching.
Parkway, one loss away from ending the season, was looking for a big performance to get a step closer to the districts.
Both teams met their goals in winning their games at the Mercer County ACME sectional at Veterans Field in Coldwater.
The Cavaliers got a strong game from Adam Timmerman to send Marion to the loser's bracket with a 3-1 win in the opening game. In the nightcap, Trevor Krogman came back on short rest to get Parkway a 5-3 win over St. Henry, ending the Redskins' season. Marion and Parkway will play in the loser's bracket final tonight at Coldwater at 6:30 p.m. The winner gets the second sectional spot to the district tournament and plays Coldwater to decide seeding on Friday starting at 6 p.m.

Parkway 5, St. Henry 3
Again with the pitching cupboard a little bare, the Panthers called on Trevor Krogman to help them stay alive.
Krogman had to come in cold on Sunday after Tyler Brickley's ejection for not sliding, throwing 4 1/3 innings in Sunday's loss to Marion, Krogman had just two full days of rest, one considering Krogman played in Tuesday's eliminator game as an outfielder, to come back and try to keep the Panthers' hopes alive.
What Parkway got was a strong performance from Krogman. The lefty went the distance, striking out eight and walking three while holding St. Henry to three unearned runs on six hits.
Needless to say, Panther skipper Mike Moorman was very happy.
"I knew if we got him the ball, he's going to be a baller," said Moorman. "I told him last night he needed to step up and he did."
Parkway jumped out to a 3-0 lead in the top of the third thanks to two St. Henry errors leading to two of the runs. Steve Hays drove in a run with the lone base hit of the inning.
St. Henry scrapped back with two runs in the fourth. Kyle Bruggeman reached on a hit by pitch to start the inning. Jay Woeste followed with a fly to left. Kyle Hamrick had, then lost the ball. Bruggeman rushed to third as a throw came in wildly, allowing Bruggeman to score and (Continued from page 1B)

Woeste to go to second. Jason Rutschilling brought home Woeste with a single to cut it to 3-2 before Krogman recovered to get Ryan Hartke to pop out.
In the sixth, Parkway got more of a cushion. Jordan Thompson led off with a walk. Krogman grounded to the mound, but the throw to first was off base. Jensen Painter stepped up and singled home both runners to make it 5-3.
St. Henry made one last push in the bottom of the inning. With two outs already on the board, Tyler Post singled. Ryan Hartke singled to right. Post moved to third and went home when the ball got past Alex Shaffer. The relay throw went to the fence near third base, allowing Hartke to go to second. Pinch-hitter A.J. Kremer walked to bring up Josh Werling, but Krogman promptly enticed Werling to swing on the first pitch and loft a lazy fly to center to end the inning.
"We've been walking on eggshells through this tournament," said Moorman, making reference to the four errors Parkway made on Wednesday. We're not play very good baseball, but we're playing well enough to get by. A win's a win in tournament."
All that remained was the final three outs in the bottom of the seventh. Mike Gast bounced back to Krogman for the first out. Clune struck out swinging for the second out before Bruggeman ended the game with a swinging strikeout.
St. Henry starter Brent Bills took the loss despite throwing a fairly decent game, scattering five hits and walking just three batters. All but one of Parkway's runs were unearned on the day, thanks to four St. Henry errors.
"We had some timely hits. What let us down tonight was our defense," said St. Henry coach Joe Wourms. "Four errors that were big. ... That's a tough way to take a loss. Bills pitched a pretty good game for us. A couple of untimely walks, but other than that, he threw a really good game for us.
"(Parkway) had four errors as well, but they made the plays when they needed to be made. They were the better team tonight."
Now Parkway faces Marion in a rematch from Sunday. Brickley will get the start after sitting out the last two games.
"We've got one of our big guys back," said Moorman. "Not saying that means anything, but you have to have a lot of confidence in him to get the job done."

Coldwater 3, Marion 1
Being seeded, Coldwater needed just two wins to make it to the district level.
With that in mind, Cavalier skipper Romie Schwieterman sent out Adam Timmerman to try and nail down the berth to Sunday's district round.
Timmerman came through with a strong showing, scattering two hits to go with six walks in the win over the Flyers, winning a pitcher's duel against Marion starter Troy Luebke.
Timmerman gave up only one run, coming in the third. Chris Wenning led off with a double and scored on a wild pitch after Luebke moved the runner up. after that, Timmerman retired the next five batters in a row and did not allow a hit the rest of the way.
That allowed the Cavaliers to manufacture runs in their normal style: get on base, move up on sacrifices or stolen bases and wait for the big hit.
The big hits came up in the first, fourth and fifth innings.
Coldwater got the opening run when Tyler James' grounder to the mound forced out Brady Geier at second. James stole second and moved to third on Curtis Moeller's errant throwdown. After Troy Siefring walked, Cody Muhlenkamp lofted a deep enough fly to right to score James.
James also scored what would be the winning run in the fourth. After walking, James went to second when Luebke's pickoff throw went wide of the bag. James then stole third and scored on Siefring's single. Siefring also drove in the final Cavalier run with a single to score Trevor Stromblad in the fifth, going 2-for-2 on the day.
The Cavaliers had plenty of addition chances to score, but the Flyer defense came up with big plays on pickoffs and steal chances. Twice, Coldwater runners on first were picked off first.
"We kind of live and die by the run," said Schwieterman. "A couple of times later (after getting picked off) we stole some important bases and two of those guys scored. We're not going to quit."
All that remained for Timmerman was to get the final three outs, which became a little more difficult than expected. After getting the first two outs, Timmerman walked Jordan Moeller and Chris Stucke back-to-back. A wild pitch and bad pickoff throw sent Moeller to third with Mitch Thobe at the plate. Timmerman, after a brief conference from Schwieterman, ended things by striking out Thobe.
"He has that flare for the dramatic," said Schwieterman with a grin. "He had about one more pitch before his drama would have been replaced by a reliever (Thobe struck out on a 3-2 count). ... He always gives you a battle. He did that again tonight. A great performance."