What a difference 24 hours makes.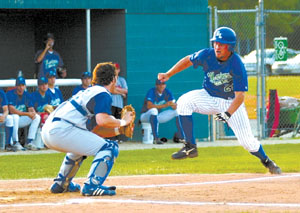 Tuesday night, the Grand Lake Mariners had one of their poorest outings of the season as they stranded eight runners and grounded into three double plays offensively and had a trio of pitchers walk six batters and give up eight hits in suffering an 8-0 shellacking at the hands of the Lima Locos.
Wednesday night, the Mariners rode a complete game shutout by Andy Delagarza and timely hitting to beat the Delaware Cows for the first time in three outings this season 3-0 in Great Lakes Collegiate League play at Jim Hoess Field.
Grand Lake remains in second place in the league standings as it improves to 12-8. Delaware, loser of eight of its last 10, falls to 10-11 on the campaign.
(Continued from page 1B)
"Andy went out tonight and pitched his butt off," said Mariner coach Mike Stafford. "We had a thin bullpen and Andy went out and pitched a complete game shutout. He helped us get back on track and saved our bullpen."
After being a victim of some bloop hits that led to some early trouble, Delagarza settled down and compltely dominated the Cows. On the night the left-hander from Coastal Carolina allowed Delaware just four hits, striking out seven and walking just one.
In the third inning, the Cows threatened as Jason Zoeller singled with one out. Delagarza got out of the jam by inducing Daniel Webb and Ryan Hamilton into grounding out.
In the fourth, Aaron Hauser led with and Charles Lenhart walked with one out. Again Delagarza bowed his back as Ryan Parker flew out to center and Joe Ryback struck out.
Delagarza had one final jam to work out of in the fifth as Zoeller blooped a double with one out, but Webb bounced out and Ryan Hamilton flew out.
After the fifth, Delagarza got in a groove as he retired the last 14 Cow batters he faced.
"Take nothing away from Delaware, but the hits they got were not really gap hits. They did not hit the ball hard," said Stafford. "Andy did a great job of getting ahead of hitters and then we got three runs for him and we never looked back."
The Mariners got Delagarza the only offense he would need in the third inning. Josh Eachues walked to lead off the inning, went to second on a passed ball and scored on a single by Dusty Hammond.
Grand Lake took advantage of a aet of bizzare cicumstances to score a pair of runs in the fourth. Bryant Witt and Wayne Bond recieved back-to-back walks to start the inning and both runners scored when Eachues' sacrifce bunt was thrown down the right field line by Delaware pitcher Andrew Hess.
"When you put presure on a defense like we did good things happen," said Stafford. "When you put pressure on a team, the first team that makes the least amounts of mistakes usually comes out on top. Tonight was a perfect example."
The Mariners take to the road tonight as they travel to Toledo to take on Lake Erie.
Phone: (419)586-2371, Fax: (419)586-6271
All content copyright 2005
The Standard Printing Company
P.O. Box 140, Celina, OH 45822