By Timothy Cox
tcox@dailystandard.com
City officials are considering whether to use a portion of the $300,000 in grant money they are seeking to bulldoze a couple of blighted residential properties on Sycamore Street.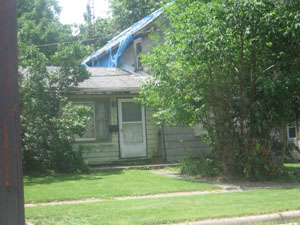 Celina City Council members plan to apply for the Community Development Block Grant (CDBG) distress program with the hopes of using the money in a number of ways to improve the neighborhoods in the southwest portion of the city. Proposed projects include water line improvements, street and sidewalk work and enforcement of zoning codes and other city ordinances.
If council members approve an emergency resolution at Monday's meeting, the demolition of long abandoned homes at 730 and 1008 Sycamore Street would be included on the list of projects. Grant consultant Ron Puthoff estimates it would cost up to $5,000 or so per property to demolish the houses, haul away the debris, backfill the site and plant grass.
Owners of the two dilapidated homes would pay nothing for the improvement; all expenses would come from the grant funding and matching money. Neighbors of the dilapidated homes would benefit by having the eyesores gone and possibly their own property values improved.
The resolution council members will consider says the county health department, city consulting engineer and Fire Chief Doug Kuhn have deemed the two houses "to be unhealthful, structurally unsound and unsafe for human habitation." The resolution is necessary to declare the properties as "spot slums" so they qualify for demolition under the CDBG program. City officials would have to get permission from the property owners to do the project, Puthoff said.
Property owners have not been contacted, but the homes have not been livable in years, Puthoff said.
"They've been weathered and had water inside. They're just in terrible shape," he said.
The home at 730 Sycamore Street appears to be missing half its roof. Yellow caution tape marks the building as condemned.
City officials won't know until sometime in September whether they will receive the $300,000 distress grant. The 4-year-old program targets small communities or sections of larger communities that have high numbers of low- to moderate-income households. The grant program is gaining popularity among communities, Puthoff said, but only 10 grants of $300,000 each are expected to be awarded. Another grant consultant recently predicted that more than three dozen communities would by vying for the grants.
Celina will get some competition for the grant from Mercer County, which is applying for the village of Montezuma. The county received the grant last year for reconstruction of Main Street in Mendon.
Phone: (419)586-2371, Fax: (419)586-6271
All content copyright 2005
The Standard Printing Company
P.O. Box 140, Celina, OH 45822