By Margie Wuebker
mwuebker@dailystandard.com
Doorbells will be ringing throughout Celina soon as local firefighters launch their 2005 smoke detector program aimed at preventing fire-related deaths and injuries.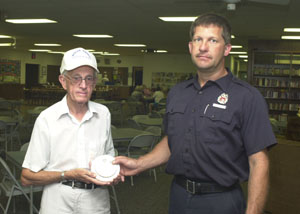 "Our goal is to have at least one working smoke alarm in every home in our coverage area," says Mike Bruns, fire prevention officer with the Celina Fire Department. "We especially want to make sure that happens in homes where people over the age of 65 and children under the age of 14 reside."
The department last conducted a house-to-house canvass in 1999, targeting residents within the city limits. The program is being expanded to cover not only the city but the entire 77-square mile fire protection area. Plans call for the city canvass to begin later this month followed by visits in the outlying area. An announcement will be made regarding start dates.
Uniformed firefighters -- 15 full-time personnel as well as 12 department volunteers -- also will hand out safety information regarding proper placement and maintenance of smoke detectors, the development of escape plans and steps to take in the event of a fire. A one-page insert is also being included with city utility bills.
"We will provide a smoke detector and/or batteries without charge," Bruns says. "We can even install them if need be." Firefighters will leave information even if the resident is not home. Anyone missed during the visits can obtain detectors at the firehouse. Additional detectors have been placed at the Mercer County Council on Aging for distribution to clients.
Nearly 4,000 Americans die in home fires each year and more than 25,000 are injured, according to statistics from the U.S. Fire Administration. Children and the elderly are especially at risk because they are less able to escape when flames erupt.
Bruns believes many people fail to realize how quickly fires grow. A home fire can become a killer in as little as three minutes. In 2002, nearly 35 percent of fatalities occurred in homes where there was no smoke detector or a non-functioning one.
Information from the State Fire Marshal's Office indicates the leading cause of residential fires continue to be the result of intention, error or carelessness.
Local firefighters have responded to 315 structure fires involving 21 injuries and two deaths since 1998. Two youngsters -- ages 3 and 4 -- died Nov. 7, 2001, of smoke inhalation. It was later determined one or both of the children had been playing with a cigarette lighter in the bedroom of a mobile home not equipped with a working smoke detector. Their mother and younger brother escaped.
In 1999, funding for the smoke detector program came primarily from local insurance agencies. The fire department has received an Ohio Fire Act grant this year to support the effort as well as a related education program.
Celina High School seniors bound for college received smoke detectors to take with them during a spring visit as part of the program. The visit by firefighters came in the wake of a disastrous fire that claimed the lives of several Miami University students at an off-campus home.
Future plans include enhancing fire and injury prevention classes for children in grades 3-5. Additionally, the department wants to provide a smoke detector to every fifth-grade student in Celina.
"Surveys of children in fire prevention sessions have revealed that less than half have a detector in their bedroom," Bruns said. "It's never to early to promote safety, and safety begins in the home."
Phone: (419)586-2371, Fax: (419)586-6271
All content copyright 2005
The Standard Printing Company
P.O. Box 140, Celina, OH 45822