By Gary R. Rasberry
grasberry@dailystandard.com
COLDWATER -- It was an easy equation for the Coldwater ACME team: Three games, three wins, one sectional title.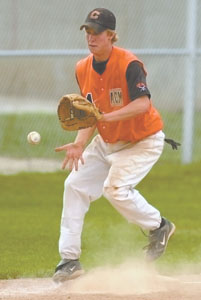 The Cavaliers completed an undefeated week to capture the Mercer County ACME sectional title with a 7-1 win over Parkway on Friday at Veterans Field in Coldwater.
The Cavaliers (20-8) play Shelby County sectional runner-up Lehman in the first game of the District 4 tournament on Sunday at noon at the Wally Post Athletic Complex in St. Henry. Parkway (22-6), the top seed of the Mercer County sectional which had to win three games on three straight days just to make the district, plays Shelby County champ Fort Loramie on Sunday at 7:30 p.m.
"We stayed in the winner's bracket, which helps," said Coldwater coach Romie Schwieterman. "Our hats are off to Parkway to come back the way they had to. We hope our teams represent Mercer County well and I think they will.
"We lost 10-11 seniors from the spring. We had some guys who have never been up to this level. We're proud as hell from where they have come. They heard a lot of yelling from us. Tom, Matt and Bill (assistant coaches Tom Brunswick, Matt Loughridge and Bill Klenke) have done a helluva job. It's great that they've accomplished this." The Panthers, who had to dig deep for pitching during the tournament, went with a pair of pitchers who haven't seen a lot of time of late to get through the final and get ready for Sunday.
Zach Caffee got the start and allowed nine hits through five innings. Caffee allowed five of the Cavaliers' seven runs. Kyle Hamrick came on in the sixth and allowed two runs on three hits.
"They did what we asked of them," said Parkway coach Mike Moorman. "They threw strikes. It's a tough situation. Coldwater can hit the ball, we knew that coming in."
Coldwater went with Steve Borger and got a quality start. Borger went the distance, walking none and scattering seven hits along the way.
The lone Panther run came in the second when Alex Shaffer led off with a single, stole second and scored on an error off a grounder by Tyler Brickley.
After giving up four hits in the first two innings, Borger scattered three hits and one hit batsmen the rest of the game, retiring the last nine batters he faced.
"When I look at the charts, Steve stays the cleanest as far as walks and hit batsmen," said Schwieterman of Borger. "He did that again tonight. When you allow 8-10 extra guys on, you're digging your own grave. He stays clean, stays ahead in the count and had some help behind them."
Trevor Stromblad, hitting out of the nine hole in the lineup, went 2-for-2 with two runs scored and two runs batted in. Brady Geier, Tyler James and Riley Muhlenkamp each added two hits for the Cavaliers. Hamrick paced Parkway with a 2-for-2 day at the plate.
Now both teams look to battle for the berth at state. For the Cavs, the berth would be big as Coldwater hosts the state tournament starting July 23.
"It sure would be nice to be able to come back here for state," said Schwieterman. "Our goal is to get back here and play here on our own turf. We're (the coaches) going to sit back and enjoy this one and be ready to rock and roll on Sunday."
Parkway, after losing its opening game of the sectional tournament and having to battle back through the loser's bracket, is ready to be back at a level spot for Sunday.
"We talked about that yesterday, starting from ground zero," said Moorman. "We have Krogy (Trevor Krogman) going on Sunday and follow up with Brickley. We've got the two guys we want on the mound. Hopefully our offense wakes up a little bit as far as runners in scoring position I think we'll be alright."
Phone: (419)586-2371, Fax: (419)586-6271
All content copyright 2005
The Standard Printing Company
P.O. Box 140, Celina, OH 45822