By Ryan Hines
rhines@dailystandard.com
Thanks to a lot of help from Indianapolis, the Grand Lake Mariners swept a doubleheader from the Servants on Friday night at Jim Hoess Field at Westview Park.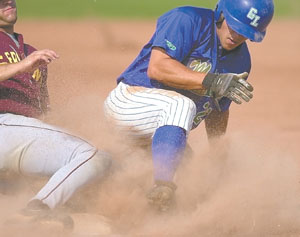 Grand Lake won the first game 2-1 behind a pair of unearned runs and then plated the winning run in the 11th inning in the second game on another Indianapolis error for a 3-2 extra-inning victory.
The pair of wins pushes Grand Lake to 14-9 on the summer while Indianapolis slips to 4-16, with four of those losses coming in the past two days.
"We didn't play very good baseball today, but it was important for us to come away with two wins," said Grand Lake manager Mike Stafford. "I told the guys before the game that their record wasn't very good but you still can't take them lightly. Every win is huge in this league and you have to approach every game like you are playing against the best."
Grand Lake went down in order for the first two innings of Game One but Scott Billak and Scott Boley singled to start a rally in the third frame. Billak and Boley tried a double steal and the throw was intended to go to third base but sailed into leftfield allowing Billak to come home for a 1-0 Mariners lead. Bryant Witt then reached on an infield single before another Servants error allowed Boley to score. Ben Gaal hit a grounder to third base which was booted and then thrown away at first base allowing Boley to score giving Grand Lake a 2-0 advantage.
Mariners starter Brad Seddon cruised through the first six innings allowing just three hits and just one Indianapolis baserunner to reach second base. In the seventh inning, the Servants' Jeff Mercer reached on a Mariners error and moved to third base on back-to-back fielder's choices before pinch hitter Kenny Bargfeld connected for an RBI single to cut the Grand Lake lead to 2-1. Seddon retired the next batter for a complete game win in which he allowed just four hits and one unearned run.
In Game Two, Grand Lake faced a one-run deficit on two different occasions late in the game and came through in the clutch each time before benefiting from a Servants mistake to win the game.
The Mariners were down 1-0 entering the seventh and final inning when Josh Eachues had a pinch-hit double and later scored on a two-out single by Dusty Hammond to tie the score.
Indianapolis scored a run in the top of the 10th inning by way of two walks, a sacrifice bunt and a wild pitch. The Mariners tied the score in the bottom of the 10th when Ben Gaal reached on a walk, went to second on a single by Ben Humphrey and advanced to third on a wild pitch. A Michael Ayala RBI groundout scored Gaal to tie the score at 2-2.
In the 11th inning after back-to-back Grand Lake strikeouts, Scott Billak reached on an infield single. Billak moved to second base when Ryan Keena was walked and scored the game-winner when Hammond's groundball went through the legs of Indianapolis second baseman Brent Alwine.
The Mariners offense seemed to get a spark when Stafford was ejected, for the second time in less than a week, for arguing balls and strikes in the 10th inning.
"I felt that it was time to get a spark for our ballclub and with the call being what it was, it thought that it was time to fight for my team," said Stafford, who was also thrown out of the game on Tuesday against Lima. "I think that we got a little momentum and got the job done in the 11th inning. I will always stick up for my players because they play their butts off for me. I'm behind them 100 percent and I wanted them to know it."
It was a matchup of Mercer County natives in the second game as Corey Luebke (Marion Local) pitched for the Mariners while Kyle Heyne (Coldwater) was on the hill for Indianapolis. Neither figured in the decision but both pitched well. Luebke threw seven innings allowing just five hits and one unearned run with five strikeouts. Heyne threw five innings of shutout ball allowing three hits and striking out six.
Jeff Loveys, the third pitcher of the night for the Mariners, got the win pitching the final 1 1/3 innings.
"The pitching was great in both games," said Stafford. "Allowing three runs in 18 innings is good. They kept us in both games until we were able to score a few runs."
Grand Lake is back in action with doubleheaders the next two days at Delaware today and at Columbus on Sunday.

NOTES: The Great Lakes Summer Collegiate League All-Star game is on July 17th and the Mariners will be sending Dusty Hammond, Ben Gaal, Ben Humphrey, Corey Luebke and Keegan Laycock. T.J. Sheridan and Kurt Lauscher are both alternates.
Phone: (419)586-2371, Fax: (419)586-6271
All content copyright 2005
The Standard Printing Company
P.O. Box 140, Celina, OH 45822