By GARY R. RASBERRY and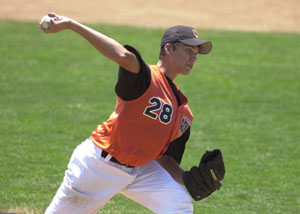 MARK RUSCHAU

ST. HENRY -- The first day of the District 4 ACME tournament started out with a bang for Grand Lake area teams and wrapped up same.
The day started with Coldwater's Sam Slavik firing a no-hitter to beat Lehman 5-0 and put the Cavs in the second round. St. Marys made things a little more exciting, getting two strikeouts from reliever Mark Triplett with the winning run on second base to beat perennial power Crestview 3-2. Bob Inskeep made sure that Slavik didn't twirl the only gem of the day, throwing the second no-hitter in the third game to help Minster run-rule Van Wert 15-0. The final game also turned out to be a pitcher's game as Parkway's Trevor Krogman and Fort Loramie's Jordan Goldschmidt threw seven shutout innings each. Parkway came back with three in the eighth to beat the Redskins 3-0.
The wins allow the Grand Lake area teams a night off tonight as the teams from Van Wert and Shelby Counties play elimination games tonight at the Wally Post Athletic Complex in St. Henry starting at 6 p.m. Coldwater and St. Marys will play in a winners' bracket game at 6:30 p.m. Tuesday while Parkway and Minster will battle on Wednesday at 6:30 p.m.

Coldwater 5, Lehman 0
It didn't take long for Slavik to show he was ready to pitch on Sunday, as the junior-to-be struck out the side on just 11 pitches, 10 going for strikes. Slavik allowed just one walk in the game, with the other baserunner reaching when catcher Cody Muhlenkamp was called for interference, allowing Logan Peltier to go to first.
"Cody was happy (Slavik) walked one. You'd have hated to lose a no-hitter on catcher's interference," said Coldwater skipper Romie Schwieterman.
It took a bit for the Cavaliers to get hard hits off Logan Peltier. Coldwater got two runs in the second when Slavik reached on an error, allowing Cody Muhlenkamp and Steve Borger to score the only runs Slavik needed.
It wasn't until the fifth that Coldwater got two more, both coming in on Troy Siefring's double to the right-center fence, scoring Trevor Stromblad and Brady Geier. Cory Klenke drove in the final run in the sixth, singling in pinch-runner Tony Harlamert.
"We've been seeing some quicker pitching. A lot of pitching we saw earlier (in the year) was off-speed stuff," said Schwieterman. "Then we went to the Bellfontaine round-robin and we saw some pitchers with some more giddy-up on the ball. It is a tough adjustment. When you see those guys, you want to tighten up and hit the ball four miles instead of going with it. I think they loosened up and went with the pitch and hit the ball better.
Meanwhile, Slavik continued to cruise. Although he got the count full on several occasions, Slavik retired the last nine batters he faced. In the sixth he struck out the side in order for the second time. In the seventh, he enticed Jay Buechter to fly to center, then caught Spencer Peltier to look at strike three. With Logan Peltier up again, Slavik ran the count to 1-2 before getting Logan Peltier to look at strike three on the 91st and final pitch of the game. Of the 91 pitches, 57 went for strikes.
"He's been getting better every outing," said Schwieterman. "We weren't sure (where he would be) because he came up from junior varsity. Like a fine wine, he keeps getting better with age. He has that big 12-to-6 curve ball and mixes things up well. Can't ask much more out of him."
Klenke had two of the eight Cavalier hits.

St. Marys 3, Crestview 2
It came down to big pitches as St. Marys, which entered the district at 11-11, pulled off the mild upset of a Crestview team that was 13-2 coming in.
St. Marys got three runs in the fourth inning after the Knights scored in the bottom of the third. The rest of the game saw St. Marys starter Justin Bruns and reliever Mark Triplett battle out of jams the Knights put in their way.
The first big jambreaker came in the bottom of the fourth as a walk to Briggs Orsbon left the bases loaded with one out. Ryan Myers grounded to third. Koby Frye came up throwing home to get the force for the second out with the bases still loaded. Cory (Continued from page 1B)

Schneider ended the inning by grounding out harmlessly to Frye at third, leaving the bases full.
Crestview finally got a run back in the fifth when Matt Myers hit a solo homer over the left field fence, but Bruns bowed his back and struck out Jay Warnement and getting Seth Sutton to fly to first to end the inning.
In the sixth, Cody Michaud led off with a single, but a pitch later, Bruns caught Michaud off first, firing to Aaron Pfeffenberger, who chased Michaud down for the out.
Finally in the seventh, the Knights tried one last joust. Ryan Myers led off with a walk. After a wild pitch, Schneider moved Myers to third with a bunt. Adam Motycka followed with a walk to bring up Matt Myers, who was 2-for-3 coming into the inning. Triplett came in from second to try and keep anyone from scoring. Triplett send Matt Myers back to the dugout with a strikeout. Warnement came up and fell behind 1-2 before Triplett earned the save with the strikeout.
"That seventh inning has been killer for us," said St. Marys coach John Meinerding. "We came through today. Justin Bruns threw one helluva game today. Mark came in and closed the door."
St. Marys scored all three of its runs thanks to two hits and a walk. Frye started the inning with a walk. Donnie Carroll singled to put runners on first and second for Sam Rammel. Rammel singled to right to score Frye as the ball got away from Schneider, moving the runners up a base. Korey Hullinger brought the final two runs in with a single.
"We got hits in key situations," said Meinerding. "We didn't have a lot of them (seven hits, compared to just five for Crestview), but we got them when we needed them."

Minster 15, Van Wert 1
The Auglaize County sectional champion Wildcats scored five runs in the first two innings and rode the strong pitching performance by Bob Inskeep to run rule the Van Wert Cougars.
Inskeep, who will be a senior in the fall, twirled the second no-hitter of the first round as he allowed the Cougars just two first inning walks and a lone run to score. After the first frame, Inskeep allowed just one more base runner to reach as as Kyle Klinker reached on an error in the fourth. After the first inning, Inskeep retired 12 of the last 13 batters he faced.
For the game, Inskeep struck six and walked just two.
"Bob gave us everything you could ask for from a pitcher today," said Minster boss Austin Kaylor. "In the first inning both pitchers struggled to fins the plate but reemphasized the importance of getting the first pitch over for a strike and he Bob did a nice job of that as the game went on and that makes thing a whole lot easier for everybody"
Minster jumped on Cougar starter Kyle Klinker for a trio unearned runs in the first inning. With one out, Aaron Heitbrink reached on a walk, went to second on a single by Chris Stueve and scored when Jake Luttmer's ground ball was booted.
After Inskeep struck out, Eric Bernhold walked. Both Bernhold and Stueve scored when Nick Wyen's ground ball went through the legs of first baseman Malachi Murphy.
After Van Wert scored in the bottom of the first, Minster put the game away scoring twice in the second. Andrew Baumer doubled to lead off the frame and scored on Dan Mueller's single. After a ground out by Heitbrink, Mueller scored on a single by Stueve.
"Scoring runs early was something we did not do last week in the county tournament and that made things pretty hard on us," said Kaylor. "We have been emphasizing taking advantage of scoring chances and it was nice to see us do that today."
The Wildcats put an exclamation point to the contest as they sent 13 batters to the plate in the fifth, scoring eight times. The frame was highlighted by a Stueve grand slam.

Parkway 3, Fort Loramie 0 (eight innings)
On a day where pitching dominated, Parkway's Trevor Krogman and Fort Loramie's Jordan Goldschmidt may have saved the best to last. The two juniors to be each twirled seven innings of shut out ball before Parkway was able to use small ball to score three times in the eighth.
Krogman allowed Fort Loramie just four hits, striking out 10 and walking just one.
Although Krogman allowed the led off runner to reach base in first four innings, and allowed a base runner in seven of the eight innings, he was able to battle his way through.
"Once again Trevor clutch up for us," said Parkway coach Mike Moorman. "He's been one of the gamers on this team all year and this is the second time in the tournament that he has stepped up for us and pitched a great game.
"You could tell from pitch one that he was focused," continued Moorman. "You can't say enough about the kid, I give him all the props for what he did."
Goldschmidt was equally effective as he shutdown the Panthers on just three hits before a couple of crucial eighth inning break downs cost him the victory.
Kyle Hamrick started the winning Parkway rally reaching on an error by the Fort Loramie shortstop. Marc Meyer then led down a but that was thrown away at first by Goldschmidt.
After a Rikki Covarrubias bunt moved the runners up a base, Derek Snyder was intentionally walked to load the bases. The strategy backfired as Krogman laid down a perfect squeeze bunt, scoring Hamrick with the game's first run. After Jordan Thompson was intentionally walked to reload the bases, Steve Hays blew up the strategy again as he singled to center to score the game's final two runs.
"Small ball has been a part of our game all year and it worked tonight," said Moorman. "The guys executed it there in the eighth inning and that was good to see because we really did not have very many other chances to score."