By Shelley Grieshop
sgrieshop@dailystandard.com
The students and the topic went together like peanut butter and jelly.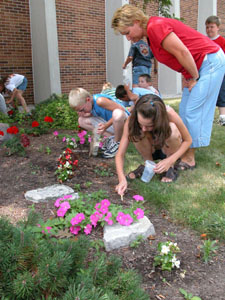 dailystandard.com">
Bugs and kids, a match made in heaven. As teacher Shannon Pence explains how the class will capture and examine insects this warm Monday afternoon, she feels the excitement build.
"We're going to be learning all about insects," says Pence, a teacher at this year's Camp Inquire program at Wright State University-Lake Campus.
"Yeah," shouts Kami Sammetinger, an 8-year-old girl from Wapakoneta.
"Where are we going to put the arachnids?" asks Connor Gehle, a student from Parkway Local Schools. Shaking her head, Pence quickly pipes back, "We're not going to get arachnids today. I don't want anyone getting bit or stung out there."
"Good, I hate spiders," Sammetinger replies, quickly setting the record straight on the boundaries of her passion for bugs.
Pence, an elementary computer teacher at New Bremen Local Schools during the school year, glances out the window where temperatures have risen to near 90 degrees. If she yearns to sip iced tea near a swimming pool instead of sweating in the heat of the day searching for tiny creatures, it doesn't show.
Her summer job as teacher of the weeklong class "Don't Bug Me" is to capture the imagination of the dozen-plus inquiring minds at her feet.
Camp Inquire, now in its 24th year, is a program for "high-ability" students from all over the Grand Lake area and offers creative thinking and problem solving. Each subject encourages students to seek and meet challenges not normally found in the average classroom.
This week and next, third- and fourth-graders fill the university typically overrun by much older students. From June 13 to July 1, fifth- through seventh-graders converged on the campus.
Down the sprawling halls, chatty students learn about kite engineering, newspaper publication and the history of the Miami-Erie Canal. Problem-solving activities are as rampant as smelly tennis shoes.
Pence's students quickly grab plastic cups to harbor their hopeful finds and head outside after being read the rules of the day: stay together and don't go too close to the lake. Worms, wasps and bees are to be avoided and definitely no snakes, Pence adds sternly. Look for harmless specimens like beetles and ants, she instructs.
Using popsicle sticks, the children dig in the dirt, careful not to leave the earth in disarray, as their teacher ordered.
"My favorite bug is a lightning bug," says Jenna Halterman of Coldwater.
Of course the thought of smashing the winged insect on the sidewalk was repulsive to the soft-spoken 9-year-old.
"I just put them in a jar," she adds proudly.
"Ooh, a dead lady bug," says Sammetinger the spider hater, as she turns over a small rock in the landscape.
Pence assures a group of boys that jackhammers won't be necessary for digging, as one child suggests, if they look in the right places. It is midday and most soil-loving insects will be hiding in cool, moist places beneath the ground, she adds.
"What if you catch something too big for your cup?" asks Caleb Yeatts, 9, of New Knoxville.
"It's probably not an insect," Pence quickly replies with a smile.
Near the Crown Amphitheater, to the rear of the campus, several students team up to roll away a large landscape rock. Immediately the area is full of crawling red ants, screaming students and one frantic teacher.
"Oh my gosh, they're everywhere," says Pence, furiously trying to wipe away any lingering ants from her clothing.
Sweat fills Andy Ewing's brow as he stumbles through the grass, a solitary ant crawling inside his 12-ounce cup secured by plastic and a rubber band.
"Can we go back in where the air conditioning is?" he begs.
Soon, the students each have ants, crickets and locust shells in their collection and head back indoors to examine their finds under microscopes.
Before the week is up, they'll research bugs of all kinds and build their own bug army as Napoleon-like entomologists. By the close of camp, they'll have created T-shirts and posters using the knowledge they reap and will spend hours impressing parents and grandparents with insect mania.
Ahh, to be a bug on the wall of these students' homes by Friday. Or maybe not. The experience would likely end with a view from the inside of a jar.