By Nancy Allen
nallen@dailystandard.com
VAN WERT -- Area soybean farmers should be more concerned with soybean aphids rather than Asian soybean rust this year, ag officials said Tuesday.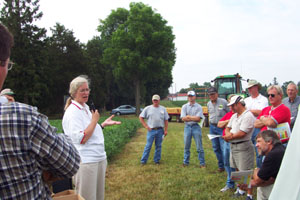 During Farm Focus at the Marsh Foundation in Van Wert, attendees were invited into a test plot of soybeans to scout for aphids. The tiny insects, which suck the juices from the leaves of plants, were easy to find underneath the newer, more succulent leaves at the top of the plants.
"We definitely have aphids throughout the Midwest, in the low to mid to high numbers, but we expect it to get worse," said Ron Hammond, a research entomologist and professor at The Ohio State University.
Hammond said in the last two to three weeks, he has found soybean aphids in every field he has scouted. A field in Wood County near Toledo was treated with insecticide because the number of aphids per plant was 250, considered the economic threshold where the possible loss in yield justifies spraying.
He encouraged soybean producers to sample their fields by pulling the top of the plant off and looking underneath the leaves. If they find 250 or more aphids per plant, they should treat with insecticide, he said. "Knowing what the aphids did last year, we're going to recommend treatment sooner," he said, adding that Ohio tends to get aphids later in the growing season than other states.
Cecelia Lokai-Minnich, an agronomic consultant who attended Tuesday's Farm Focus, echoed Hammond's words. She recently found some in Clark County near Springfield while scouting a field for a client.
"The aphids are going to be a bigger issue by far," she said. "It's just beginning, but those numbers can change very quickly."
Also at Farm Focus, Asian soybean rust expert Anne Dorrance spoke about the potentially devastating fungal disease.
"There's a very good chance we're going to miss this whole thing. I'm just beginning to think about getting a full night's sleep," she said about soybean rust.
Ag officials will begin monitoring sentinel plots planted throughout Ohio during the last week of July and first couple of weeks of August, Dorrance said. The plots were planted as a means to detect rust early so farmers could be notified to apply fungicide to their soybeans.
Dorrance is among a team heading up the sentinel plot concept and is on the cutting edge of soybean rust study. The disease, which many have predicted could reach Ohio by this year, was first confirmed in the United States in 1994 in Hawaii. Experts believe it first came from somewhere in Asia, though they are not sure where, she said.
Dorrance told the crowd that 10 spores were found in a trap recently in Kentucky, but researchers could neither confirm nor rule out that it was rust. The most recent confirmed discovery of rust has been in Alabama, she said.
Although Dorrance is optimistic that Ohio may not see rust, she warned there is still a chance. Since soybean rust spores are carried by wind and storm fronts, it could land in the area on the currents of Hurricane Dennis, she said.
For more information on soybean rust, aphids and other crop pests and diseases, go to the Ohio Field Crop Disease Web site at http://-www.oardc.ohio-state.edu/ohiofieldcropdisease/.