By Gary R. Rasberry
grasberry@dailystandard.com
ST. HENRY -- Coldwater ACME coach Romie Schwieterman, known for his sense of humor, has talked in the past that occasionally the play of his team has led to a number of gray hairs on his head.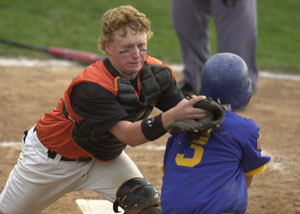 For a few innings on Tuesday, it looked like the Cavaliers were looking to add a few more gray hairs to Schwieterman's head.
Coldwater was held scoreless for five innings by St. Marys pitcher Korey Hullinger before tying the game in the sixth with two runs.
Then the floodgates finally opened in the seventh as the Cavs scored five times to beat the Roughriders, 7-2, in a winner's bracket semifinal of the District 4 ACME tournament at the Wally Post Athletic Complex in St. Henry.
The win puts Coldwater into the winner's bracket final on Saturday morning at 11 a.m. against the winner of tonight's Parkway-Minster game. The Roughriders, who were able to hold off a similar seventh-inning comeback try on Sunday against Crestview, play Van Wert in an elimination game on Thursday at 6:30 p.m.. The Cougars eliminated Lehman on Monday night to stay alive in the tournament. Hullinger, the junior-to-be southpaw, scattered three hits and walked one through five innings. A sharp wind blowing in also held up some fly balls, allowing St. Marys to make seven flyball putouts.
"You have to make the adjustments," said Schwieterman about adapting to Hullinger's style. "Especially with this wind coming in. ... There were some guys who hit some pretty nice shots tonight that stayed in because Dorothy and Toto were coming in."
St. Marys, on the other hand, got two quick runs in the second off Cav starter Kirby Timmerman. The first came in via a wild pitch off a ball four to Doug Burke. Sam Rammel later brought in Mitch Dunlap with the second run.
After that, Timmerman, who had to shake off some pain after tweaking an ankle trying to cover the plate on the run-scoring wild pitch, kept St. Marys at bay.
"We talked about how pitchers have to be tough up there," said Schwieterman. "If you let your dander down, all of the sudden you give 3-4-5 (runs). Kirby kept us in the game."
Coldwater finally got to Hullinger in the sixth. Brady Geier led off by reaching on an error and moved to third base following a stolen base and a sacrifice bunt by Tyler James. Troy Siefring then lofted a flyball to left scoring Geier. Cody Muhlenkamp followed with a single to left that was misplayed, sending the Cav catcher to second. Sam Slavik tied the game up with a single to score Muhlenkamp.
Things did not start well for Hullinger in the seventh as he plunked Cory Klenke prompting St. Marys coach John Meinerding to call on Mark Triplett to try and preserve the tie. Geier broke the tie with a double scoring Klenke and Siefring added a two-run home run to highlight the Cavaliers scoring in the seventh.
"We played a good game, but not good enough to win," said Meinerding. "Mistakes cost us big. When it rains, it pours and it poured on us again in the seventh inning.
"Coldwater's a good baseball team," added Meinerding. "I figured it would be a low-scoring affair. Korey Hullinger, I can't ask for much more from a starting pitcher. He held them to no runs (through five). We made a few errors to help them out. Coldwater's a good team. They battled and didn't get down. We just have to correct our mistakes and win from the loser's bracket."
Now the Cavaliers have three days off to prepare for a chance to step in the championship game on Monday.
"It's big to stay in that winner's bracket," said Schwieterman. "Right now, all these teams that drop down (into the loser's bracket) are beating the heck out of each other. This is the place to be."
Phone: (419)586-2371, Fax: (419)586-6271
All content copyright 2005
The Standard Printing Company
P.O. Box 140, Celina, OH 45822