By Gary R. Rasberry
grasberry@dailystandard.com
ST. HENRY -- It seems as though the Parkway ACME team has gotten clutch performances when needed all summer long.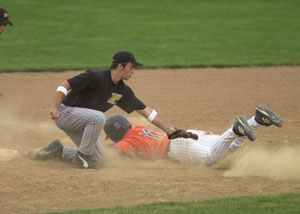 On Wednesday, the Panthers needed another one of those clutch performances in the late innings to get past Minster in ACME district tournament action at the Wally Post Athletic Complex in St. Henry.
And it came out of centerfield.
Trevor Krogman, on two days rest, got starter Tyler Brickley out of a jam to get the save in a 6-3 win over the Wildcats at the District 4 ACME tournament.
The win sets up Parkway for a rematch of the sectional final against fellow Mercer County team Coldwater at 11 a.m. on Saturday. The loss sends Minster to the loser's bracket, where Crestview waits for a 6:30 p.m. game on Friday. For the first five innings, Brickley had been solid, striking out eight along the way and allowing just two hits as the Panther offense jumped out for five runs over the stretch.
Minster scored one in the fourth, but in the sixth, the Wildcats began to get to Brickley. Dan Mueller and Aaron Heitbrink drew lead-off walks to start the fourth inning and Chris Stueve stepped up and lined a shot to the fence in right-centerfield, scoring both Mueller and Heitbrink while pulling the Wildcats to within two runs of Parkway with no outs.
Parkway coach Mike Moorman wasted no time in calling in Krogman from centerfield. The change from the hard-throwing right-hander in Brickley to the southpaw off-speed style of Krogman did the trick. Jake Luttmer moved Stueve to third on a groundout to short before Krogman struck out Bob Inskeep and pinch-hitter Vince Fullenkamp to end the inning.
"I think the disappointment was we couldn't do it in the sixth," said Minster coach Austin Kaylor. "We had (two) in already and a man on second with nobody out. Four-five-six coming up and you can't do anything. That's frustrating.
"That's a credit to (Parkway). They ran two nice pitchers out there. Those are two of the nicest we've seen all summer and in the area," added Kaylor.
"Tyler pitched a whale of a ballgame," said Moorman. "Trevor's been a baller all through the tournament (2-1 through the sectional and district). He clutched up for us once again. You can't say enough about the kid."
Parkway got the bats out early after waiting until extra frames to score on Sunday in its district opener. After scoring one in the second, Parkway scored three in the third. Derek Snyder singled, Krogman doubled and Jordan Thompson brought home Snyder with a single. After Steve Hays lofted a deep fly to center to score Krogman, Jensen Painter singled home Thompson for the third run of the inning.
Brickley singled home Thompson in the fifth for the fifth run and Krogman earned his RBI in the sixth with a sacrifice fly to left to score Covarrubias.
"We've been struggling with the bats lately," said Moorman. "Tonight it looked like it might be starting to wake up a bit at the right time."
"A team like that with their speed -- one-through-nine can steal and one-through-nine can bunt -- you have to keep them off base," said Kaylor.
Moorman had plenty of praise for the Wildcats and knew it would not be an easy game.
"We played those guys earlier in the season and had to put them away. We were up 13-2 early in the game and Minster came back and it ended up a 15-14 win for us," said Moorman. "I've got to give a lot of credit to Minster, they don't give up and have a heckuva ball team."
Phone: (419)586-2371, Fax: (419)586-6271
All content copyright 2005
The Standard Printing Company
P.O. Box 140, Celina, OH 45822