By Timothy Cox
tcox@dailystandard.com
COLDWATER -- A new sculpture will grace the front of the Coldwater Exempted Village Schools complex when an ongoing expansion and renovation project wraps up next summer.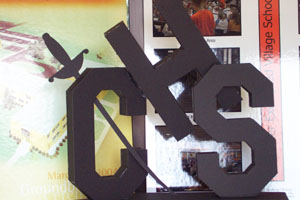 The sculpture was designed by a 2004 Coldwater High School graduate and is being donated by a local charitable foundation. School officials will work with architects to decide exactly where the art piece will be placed on the front lawn of the sprawling school.
The proposed donation by the Desch-Sowar Foundation was designed by Ryan Lefeld during his senior year as part of a competition among high school art students. When Lefeld's artwork takes the form of steel and concrete on the school lawn, the entire structure will be about eight feet wide and eight feet high at the tallest point.
The plans call for the letters CHS to be built with black tubular steel. The H is askew between the C and S and a Cavalier's sword slashes downward through the C. The letters and sword all will be three-dimensional pieces. The letters are designed to be about five feet tall; the sword is planned to be eight feet long. The whole piece is to rest atop a concrete or stone pedestal about a foot high.
High school art teacher Nick Wenning will work with members of the foundation to craft the sculpture. "It's going to be a really impressive sculpture when its done," school district Treasurer Sherry Shaffer said.
The Desch-Sowar Found-ation has supported a number of projects through the years, including scholarships for art students and helping initiate the town's Tree City, USA program.
Another familiar piece of artwork has been stored as construction proceeds but will be back in place when the project is finished. The large, metal Cavalier has been a conspicuous site on the Coldwater campus since some welding students built it several years ago. Known affectionately by students and staff as "Cav Man" or "Rusty," the structure was welded together with metal pieces designed to rust and turn an orange tint -- a natural paint job in the school colors.
Phone: (419)586-2371, Fax: (419)586-6271
All content copyright 2005
The Standard Printing Company
P.O. Box 140, Celina, OH 45822