By Gary R. Rasberry
grasberry@dailystandard.com
ST. HENRY -- As far down as Little League, coaches preach to their pitchers about the importance of throwing strikes and not walking batters.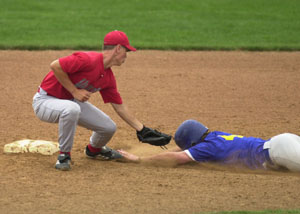 Any coach wanting to see an example of what not to do could have found the example at Thursday's ACME District eliminator game.
St. Marys pitchers walked 10 Van Wert batters as the Cougars eliminated their Western Buckeye League rival, 11-4, at the Wally Post Athletic Complex in St. Henry.
The Cougars (12-6) will play Saturday at 1:30 p.m. against the winner of tonight's eliminator game between Minster and Crestview. St. Marys ends its summer with a 10-13 record.
The trouble for the Roughriders started right away as starter Justin Bruns led off the game by walking Kody Heppeard. Heppeard was forced out on the next at-bat when Aaron Gillespie grounded to first, but later a single by Brian Bassett and Nick Thatcher getting plunked loaded the bases for Brooks Elder. Bruns walked Elder on four straight pitches to bring in the first run and Bruns managed to get a strike on Malachi Murphy before walking in another run. The floodgates opened in the second as Jordan Bair doubled to lead off for Van Wert. A sacrifice bunt saw both Bair and Heppeard reach base safely on the error, allowing Gillespie to single home a run. Walks wreaked havoc again as Bruns walked Thatcher and Murphy to bring home another run. Rider coach John Meinerding saw enough and called on Mark Triplett after Bruns walked six through 1 2/3 innings.
"I take the blame for this game," said Meinerding. "I thought (Bruns) would be ready to go today. He said he was, but three days rest wasn't enough for him. He didn't have it today. I definitely don't blame him, he battled."
Triplett was not much more accurate, walking Carlon Dunlap to bring home another run before striking out Bair to end the inning.
The Cougars tried to close things out early, plating five runs in the bottom of the fourth to go up 11-0. A dropped ball in centerfield brought home two runs to get the lead into double digits. Triplett struggled through two innings, walking four and giving up five unearned runs before Aaron Pfeffenberger came on to get the last out. Pfeffenberger retired seven of the eight batters he faced.
While the Roughriders pitchers struggled, Craig Hirschy Hirschy allowed just one hit and walked four through the first four innings and needed just three outs to get the run-rule win. St. Marys batted back, though, as Triplett, Mitch Dunlap and Doug Burke led off the fifth with back-to-back-to-back singles to bring in two quick runs and get the deficit under double figures. Hirschy looked tired, but stayed on the mound as the Roughriders scored four times in the inning.
Hirschy was able to get the complete-game win, allowing two walks and two hits in the final two innings, but the defense held firm and did not allow any more Roughrider runs.
"An 11-0 deficit is hard to come back from," said Meinerding, "But they didn't quit. They came back. Overall, I thought we had a pretty good season. Hopefully, they'll build on from this summer to next spring."
Triplett was 2-for-3 for St. Marys while Sam Rammel drove in two runs with a single in the fifth inning.
Phone: (419)586-2371, Fax: (419)586-6271
All content copyright 2005
The Standard Printing Company
P.O. Box 140, Celina, OH 45822