ST. HENRY -- The Minster Wildcats had their ACME season ended Friday as they lost an elimination game to the Crestview Knights, 5-1, in District 4 tournament action at the Wally Post Athletic Complex.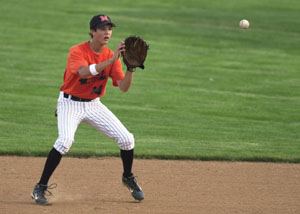 With the win, Crestview, winners of three straight elimination round games, will take their 15-3 record into action this afternoon at 1:30 against county rival Van Wert following the Coldwater-Parkway matchup scheduled for 11 a.m. Minster bows out of the tournament with a 15-7 ledger.
"We made a nice run this season and we can't let the way it ended ruin it for us," said Minster coach Austin Kaylor. "We had a nice record, but the thing that disappoints us is that we think that we were capable of better."
The storyline of this one was established in the first inning as Crestview was able to come up with the base hit when it needed it and Minster struggled all game long trying to produce runs off Crestview starter Jay Warnement.
In the top of the first, Cory Schneider singled with two outs and scored on a double to the fence in leftfield by Matt Myers. In the bottom of the first, Dan Mueller singled to lead off for Minster and promptly stole second. Mueller could advance no further as Aaron Heitbrink struck out and Chris Stueve and Jake Luttmer each grounded out.
Minster got its lead-off batter on base again in the second as Bob Inskeep singled. Again Warnement bowed his back as he struck out Eric Bernhold and induced Nick Wyen to bounce into the inning-ending double play.
One last time in the third inning Minster had Warnement on the ropes but let him escape. With one out, Andrew Baumer walked, Mueller doubled and Aaron Heitbrink walked to load the bases. At this point, Crestview catcher Josh Harmon came up with the big play as picked off a wandering Baumer at third base for the second out. Stueve ended the inning by bouncing out.
"Little things on the basepaths hurt us tonight and they have been hurting us for awhile now," commented Kaylor. "Mental errors on the bases, not moving runners over, not coming up with the big hit are the things that separate the great teams from the good ones."
After the third inning, Warnement settled into a groove as he retired 11 of the next 12 batters he faced before surrendering a meaningless run in the seventh.
In all, Warnement pitched 6 1/3 innings allowing four hits and one run.
"Jay just had an great pitching performance tonight," said Crestview coach Jared Owens. "He hit is spots real well and did a nice job of mixing in his curveball. When he got into tight spots, he was able to make the pitch that he needed to battle out of it."
Warnement's teammates gave him some insurance as they added runs in the fourth and fifth.
In the fourth, Adam Motycka, Cody Michaud reached on singles and Warnement dropped down a perfect bunt for a base hit to load the bases. Motycka scored the run on a wild pitch.
In the fifth, Ryan Myers, Briggs Orsbun and Matt Myers all singled to load the bases before Motycka collected an RBI after a walk.
"We like to move runners into scoring position by any means possible," said Owens. "We were aggressive on the bases and we were able to do that because Jay was pitching so well."
Phone: (419)586-2371, Fax: (419)586-6271
All content copyright 2005
The Standard Printing Company
P.O. Box 140, Celina, OH 45822