By Betty Lawrence
blawrence@dailystandard.com
Sarah Garman, 18, a 2005 graduate of Fort Recovery High School, was crowned Miss Lake Festival 2005 before a packed Celina fieldhouse Monday night.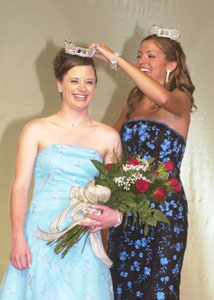 Eleven area young women competed in the annual scholarship pageant.
It was nearly a clean sweep as Garman also won Outstanding Talent, On Stage Interview and Commitment to Excellence awards.
Others winning awards were first runner-up Maria Riethman, 17, a 2005 graduate of Coldwater High School; second runner-up, Rachel McClain, 18, a 2005 Celina High School graduate; and third runner-up, Jennifer Will, 18, a Marion Local High School graduate.
Garman, the daughter of David and Dorothy Garman, Fort Recovery, was dressed in a glistening pink gown as she sang the 1950s torch song, "Misty," for the talent portion of the contest. She chose a two-piece light blue swimsuit for the lifestyle and fitness division, and her aqua sleeveless evening gown shimmered as Miss Lake Festival 2004, Marisa Minor, also a native of Fort Recovery, crowned the new queen. First runner-up Riethman, 17, is the daughter of Dennis and Rita Riethman, Coldwater. She wore a long red gown as she played "I Want to Know What Love Is" on the piano. Sparkling silver zigzags highlighted her long black gown in the evening wear division.
Second runner-up McClain performed a vocal/dance number to "And All that Jazz." She chose a denim jumper in the casual wear portion, and her long red gown with cross/cross back was highlighted with glistening silver streaks. McClain, 18, is the daughter of Douglas and Kathy McClain, Celina.
Third runner-up Jennifer Will wore a long formal white gown as she played "Simple Song" on the piano. She chose a two-piece pink swimsuit for the lifestyle/fitness division and her evening gown was deep burgundy with a flirty hemline underlaid in pink. Will, 18, is the daughter of Jerry and Doris Will, Maria Stein.
In a new twist, 11 local girls, ages 6 and 7, took turns coming on stage and escorting the contestants in the evening gown portion of the contest.
After an exchanged curtsy, the little girls with huge smiles on their faces handed each contestant a red rose and hand in hand walked down the platform stage.
The "little sister" escorts included Logan Boley, Alyssa Cisco, Jessica Miller, Breah Anderson, Mallory McMurray, Lauren Duncan, Audra Metzger, Cameron Moeller, Haley McGillvary, Lauren Blanchard and Nicole Elston.
The pageant also featured a new division of competition, casual wear, which accounted for 10 percent of the judges' scores. The clothing was to reflect the contestants personality and style references. Most of the competitors wore blue jeans and sporty, fun shirts.
Other areas of competition included private interview, 25 percent; lifestyle and fitness, 10 percent; talent, 35 percent; evening wear, 15 percent; and on-stage interview, 5 percent.
Miss Lake Festival Scholarship board of trustee member Fred Wiswell announced a total of $10,150 in cash scholarships was awarded to the contestants. Also, the Western Ohio Education Foundation (WOEF) is providing $4,000 in scholarships to participants to attend Wright State University-Lake Campus.
Garman won nearly $4,000 in scholarship monies for taking the crown and three more awards.
Receiving the Fred Thees Interview award was contestant Rachel McClain, and Cassie Gutierrez was awarded the People's Choice award and the Barbara Wagner scholarship award.
Receiving $300 each as non-finalist contestants were Emily Kaup, Amber Knouff, Lindsay Miller, Danielle Rengers, Jennifer Vantilburg and Amy Zender.