By Gary R. Rasberry
grasberry@dailystandard.com
ST. HENRY -- It appeared that Coldwater picked up where they left off after rain suspended their ACME District 4 Championship game with Crestview from Monday, scoring three more runs in the the second and third innings to take a 6-0 lead.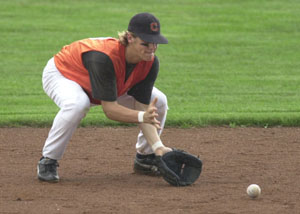 Then Crestview responded with 10 runs in the bottom of the third, making the rest of the game very interesting.
Coldwater battled back, scoring twice in the fourth to cut it to 10-8 then scoring four times in the top of the sixth to take the lead for good on the way to a 13-11 barnburner at the Wally Post Athletic Complex in St. Henry.
The win not only gives the Cavaliers (24-6) the district title, but allows them to return to Veterans Field in Coldwater this weekend to take part in the state ACME tournament. The Cavaliers play at noon on Saturday against the winner from District 2 (Lucas and Ottawa counties) at Coldwater.
The whirlwind game that saw five pitchers used and a lot of pitches thrown had Coldwater fans worried about pitchers in the event a second game was needed. Steve Borger, in relief of starter Kirby Timmerman, made it a moot point in allowing just one walk the final three innings to get the win. The win also allowed Coldwater coach Romie Schwieterman to espouse the real reasoning behind the action.
"The concessionaires said they wanted a little more business. That's why we did that," said Schwieterman with a grin. "We played Crestview three straight years (in the district) and some of our guys thought that at 6-0 it was over. We knew better. They always put up a heckuva fight. I just can't say enough about our seniors. Kirby hurt his foot the other day and had a tough time coming back, but he's 7-0 to get us here. We asked the seniors to rise to the occasion. Steve comes in and does a heckuva job. Brady (Geier) has been playing terrific centerfield. We also had juniors stepping up like Tyler James and Riley Muhlenkamp. ... They just made remarkable progress and they should be proud of themselves. I know I'm proud of them.
"Our coaches' mileage will go down in this tournament (the sectional was at Coldwater with the district five miles away in St. Henry). The fans have been great. To be able to play there (state on their home field), it wouldn't have been fun to host the tournament with our team not in it. Our first goal is to get there, now we're a little greedier."
Coldwater had a 6-0 lead going into the bottom of the third when the Knights made their run. Cory Michaud, who came in to pitch in the top of the inning, led off with a single. Ryan Myers flied out for the first out. The second out would come 10 batters later, though as the Knights found the (Continued from page 1B)

stroke on Timmerman, Sean LaFontaine singled. Cory Schneider hit his second of three doubles in the game to score Michaud. LaFontaine scored on a wild pitch. Timmerman followed up by walking three straight batters before giving up a single to Seth Sutton. After Scott Eickholt singled to make it 6-5, Borger came on and promptly gave up a single to Cory Michaud. Ryan Myers stepped up again and got the squeeze bunt down. Cody Muhlenkamp came from behind the plate and tried to tag out Sutton coming him but missed. LaFontaine followed with a two-run single to make it 10-6 before Borger got out of the jam.
"Crestview got here for a reason," said Schwieterman. "There's a reason they're in the districts every year because they do things right. Just like Coldwater, they never quit."
Coldwater tried to rebound in the fourth. Troy Siefring walked and Cody Muhlenkamp doubled. After Siefring scored on a wild pitch, Borger brought home Muhlenkamp on a long fly to center to cut it to 10-8.
"We knew we had to score more runs," said Crestview coach Jared Owens. "They're a nice hitting ballclub. We knew we had to score more. It just didn't happen."
Borger allowed a run in the bottom of the inning, then shut down the Knights, retiring six straight at one point and giving the Cavs a chance to come back.
The comeback came in the sixth. Geier led of with a single, stole second and went to third on a wild pitch. After James walked, Scott Eickholt, who threw six innings on Sunday to eliminate Parkway, came on to try and get out of the jam. Siefring walked to load the bases for Cody Muhlenkamp. Muhlenkamp got a run in with a ground out. Borger then singled in James and put Siefring at third. With Riley Muhlenkamp up, Borger tried a delayed steal to get caught in a rundown. Eickholt came off the mound for the pickoff, but the base umpire called the balk and advanced the runners, allowing Siefring to score the tying run. Riley Muhlenkamp singled home Borger for the game-winner a pitch later.
"Scotty thought he had enough in the tank," said Owens. "We brought him and thought it would be enough. He pitched well, they just hit it a few times."
The Cavs got insurance in the seventh. Geier reached on an error and moved up on James' bunt. Rather than walk Siefring, who was 2-for-2 with four RBI, Eickholt pitched away. Siefring responded with a double to score Geier.
All that remained was for Borger to get three outs in the bottom of the inning. Ryan Myers grounded to Cory Klenke at short for the first out then LaFontaine dribbled back to Borger for the second out. Schneider, who had three doubles on the day, lofted a deep fly to center. Geier got under the ball and made the out to second the Cavaliers back to Coldwater for the next round.
"Steve got in groove and held them," said Schwieterman. "You could see it in his eyes the last two innings. He wasn't going to give them anything else. He's got the guts."
Now the Cavaliers will have a short road trip to state, but that didn't stop Schwieterman from making big plans to get to the park.
"We promised that if we won we'd take a charter to our state tournament," said Schwieterman. "We're going to have Grand Lake Transit take us to Montezuma (and Lakefield Airport) and we'll fly down to Elm Street."