On a night at Jim Hoess Field where the Grand Lake Mariners and the Lima Locos combined for 19 runs, the stars of the game were the Locos bullpen.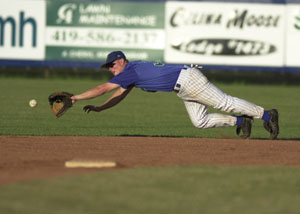 Three Loco relievers allowed the Mariners just five hits and two runs over the final seven and a third innings and allowed their teammates to rally from 2-0 and 5-2 holes and post a wild 12-7 Great Lakes Conference win.
Lima improves to 17-13 on the season. Grand Lake falls to 15-18.
Grand Lake jumped on Loco starter Thomas Pemberton for a pair of runs in the second. Ben Humphrey led off with a single and scored on a long single by Scott Billak, with Billak taking second on the throw home. After Billak stole third, he scored on a two-out hit by Bryant Witt.
Lima tied the game in the third on a home run by John Koplilchack and an RBI single by Brian Chandler. Grand Lake retook the lead by scoring three times in the third. Wayne Bond singled with one out, stole second and came home on a double by Josh Dietz. Dietz would ride home on a home run by Humphrey to left field.
Kurt Lauscher followed Humphrey's shot with a double, spelling the end of the night for Pemberton. Lima manager Rob Livchak brought on Adam Crain who retired Billak to end the inning.
Crain would then retire six more Mariner batters to stop the bleeding and allow his team to get back in the game. Jeff Sinicki and Travis Moore would follow Crain to the mound and allow the Mariners just five hits and two runs over the remainder of the game.
"The relievers just came out and threw strikes and they made some good pitches," said Livchak. "What was nice about the performance of those guys was that they have been on hold with all the days off that we have had. I have been promising and promising these guys some work and they got the chance tonight to do the job and I am very proud of them."
(Continued from page 1B)
"We came out tonight offensively and we hit the ball,"said Mariner manager Mike Stafford. It has been awhile since I have seen that kind of explosiveness inn our offense. A couple of guys had a couple of hits and Ben Humphrey had a nice day at the plate it was nice to seem him get going.'
"Unfortunately we did pitch well enough to hold a lead,"continued Stafford. 'We had 10 walks and three hits bats men and that does not give us a good chance to win the game.'
The Mariner pitching staff which game in to the game with one of the best eras in the league was battered for 12 runs, 10 hits, they walked 11 of which eight would score and hit three batters and served up three wild pitches.
Lima came back with a run in the fourth inning on a walk to R.C. Dickerson, Jay Morrow was hit by a pitch and Galen Schumm walked to load the bases. Don Cheney drove in a run with sacrifice fly to make the score 5-3.
"If you gifts like we got tonight you have to take advantage of it,"said Livchak. "We were fortunate enough to do enough of the right things at the right time to come out on top.
Lima took the lead for good scoring three times in the fifth on just one hit. Ryan Perry walked, Mark Abro reached on a error and Dickerson walked to load the bases Morrow singled on the left field line to plate two runs. Schumm drove in the third run of the frame when he reached on a fielders choice.
Grand Lake is back in action on Thursday when Delaware comes to Jim Hoess Field for a 7:15 p.m. start.
Phone: (419)586-2371, Fax: (419)586-6271
All content copyright 2005
The Standard Printing Company
P.O. Box 140, Celina, OH 45822