By Margie Wuebker
mwuebker@dailystandard.com
NEW BREMEN -- Traffic slows noticeably along Eastmoor Drive as the sound of polka music fills the air. Youngsters abandon their bicycles and approach the man seated on the neatly manicured lawn.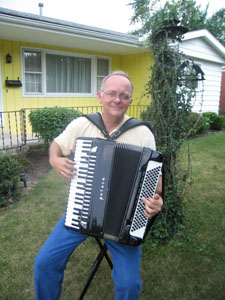 The music changes tempo in keeping with their tentative footsteps. Then the melody turns familiar and the young visitors are doing the Chicken Dance on the grass.
Steve Knapke, a frequent visitor in New Bremen since December, smiles but his fingers never leave the keys and buttons of his hand-made Petosa accordion. Enjoying a hobby he resurrected after nearly 40 years is an ideal way to spend a summer afternoon, he says.
Knapke remembers a day back in the late 1950s when an accordion salesman came to the Yorkshire-area home of his parents, John and Mary Ann Knapke.
"That was back in the era when traveling Fuller Brush, Raleigh and Watkins salesmen showed up on our Reed Road doorstep," he says. "I was interested and promised to practice so my parents paid $300 for the accordion and lessons. Three hundred dollars was a chunk of change at the time." Eight going on nine at the time, he took lessons for more than two years and practiced diligently, quickly mastering the fingering technique and learning when to activate the center bellows. His mother, in particular, enjoyed the accordion which she called a stand-alone instrument that needed no accompaniment.
Interest began to wane in junior high, he says. Teenage years brought other attractions like driving cars and chasing girls. The accordion with its 41 keys and 120 chord buttons remained in the case.
Following graduation from Versailles High School, he earned a degree from the University of Dayton and then joined the Navy to see the world.
"I served my first four-year hitch and re-enlisted," he says. "I was having too much fun to quit."
He traveled throughout the world from one assignment to another as a Naval intelligence officer. Eighteen-hour days were not uncommon. There was little time for his wife Lien, a Vietnamese native, let alone the accordion."
After 23 years of service, Knapke hung up his commander's bars and retired to a home in Beaverton, Ore. He quickly discovered retirement was not all he had envisioned.
"After all those years of fighting wars, picking targets and briefing the brass, I had no duties or responsibilities," he says. "Sleeping late and doing nothing was great for a while. Then it turned absolutely boring."
One day he remembered the old accordion hidden in the bulky case and strapped it on, fingering the keys and buttons tentatively.
"It's a lot like riding a bicycle," Knapke says. "You never forget, but you're not as good as you used to be."
The old interest quickly rekindled and he soon purchased a bigger and better model followed by others in the ensuing months. He now owns five "real" accordions -- the kind you strap on -- and a standup model resembling a keyboard. After so many years of seeing the keys from a vertical angle, he finds it difficult to deal with them from a horizontal perspective without tilting his head to the side.
"I've told my wife I'm not done buying accordions yet," he adds with a chuckle. "She doesn't understand my obsession and points out I can only play one at a time. There is always a better one out there and each has unique characteristics."
The 35-pound instrument tethered to his shoulders by sturdy leather straps comes alive with music as his fingers caress the black and white keys and travel effortlessly over 20 diagonal rows of chord buttons. It mimics the sound of other instruments, including the bassoon, clarinet, piccolo, organ, harmonium, violin and musette, at the flip of a switch.
"The accordion puts heart, soul, feeling, life and expression into a song," he says demonstrating in melodic fashion. "It makes happy sounds as well as melancholy ones."
Knapke returned to New Bremen in December after a traffic accident claimed the life of his father and critically injured his mother resulting in a 6-month hospital and nursing home stay.
"I promised Mom I would come home and take care of her," he says. "So in June, I packed up all the things that mean the most to me -- my wife, my wiener dog Rusty, my accordion and my computer -- and headed here. We will be heading to Nevada soon for a wedding and then home to Oregon now that Mom is doing so much better."
Knapke has been amazed at local response to his music including two by-request concerts at the Crown Pavilion and a performance for the senior citizens.
"I don't know what the future holds," he says. "Maybe I'll run away and join a polka band."