By Shelley Grieshop
sgrieshop@dailystandard.com
Paul Derringer carefully places a shiny, delft pendant on the display table along South Main Street in Celina.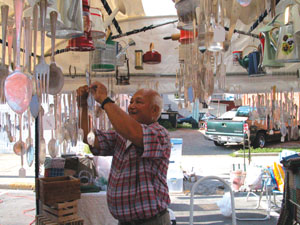 The 73-year-old Englewood man wipes beads of sweat from his forehead then sticks his head outside the steamy tent for cooler air, as customers begin to appear at the annual Celina Lake Festival sidewalk sales this morning.
"We love it up here," says Derringer and his older brother, Gene, 76, who have been selling their unusual jewelry pieces at the festival for three years.
The retired duo buys broken china and uses the pieces to make decorative pins, charms and other assorted jewelry. The process requires cutting, grinding, shaping, waxing and polishing before the pieces can be fitted into the combination silver/nickel frames, says Paul Derringer, a former skilled tradesman at GM.
The pair are no strangers to Celina; the family has kept a pontoon boat docked at the lake for years. The Derringers also have relatives living in the area and have always enjoyed the friendly atmosphere in the Grand Lake region. "I remember hitching a ride with a semi driver when I was younger just to come to the lake," says the elder sibling.
Sidewalk sales and craft exhibits opened at 9 a.m. and crowds soon began to form down Main and Fayette streets and Lake Shore Drive. Bookworms swamped the Mercer County library as sales began somewhat earlier. Downtown vendors will close at 9 p.m. today and reopen at 9 a.m. Saturday.
A variety of events will take place today downtown and near the lake where rides opened at 10 a.m. The popular amphicars will enter the hot water hole at 8 p.m. today. Approximately 55 of the unique vehicles already were in town Thursday and about a dozen more are expected to arrive.
"Shoot for the Stars" fireworks will begin over the lake at 10 p.m. today.
Tomorrow's festivities kick-off with a 5K run; registration starts at 8 a.m. The annual parade begins at 6:30 p.m.
The weather forecast looks rain-free for the entire weekend with highs ranging from the upper 80s today to a sweltering 94 on Sunday but "breezy," the National Weather Service says.
Phone: (419)586-2371, Fax: (419)586-6271
All content copyright 2005
The Standard Printing Company
P.O. Box 140, Celina, OH 45822