By Ryan Hines
rhines@dailystandard.com
The Grand Lake Mariners may be watching a potential berth into the Great Lakes Summer Collegiate League playoffs slip away following their fifth straight loss on Thursday night.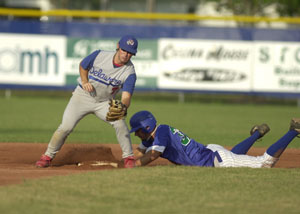 Delaware invaded Jim Hoess Field and edged Grand Lake, 3-2, for its sixth straight win. The loss pushes Grand Lake four games under .500 for the summer at 15-19.
After a promising 8-2 start to the campaign, the Mariners' recent slide may keep them out of the league playoffs as only the top six teams (in an eight-team league) are postseason eligible.
Grand Lake has a huge weekend ahead of it as it travels to Southern Ohio for three games (doubleheader on Saturday and single game on Sunday). The Mariners and Copperheads are the two teams battling for the sixth and final playoff berth as Indianapolis (6-24) is the lone team completely out of contention.
"In order for us to make the playoffs, we're going to have to go down there and win two out of three games," said Grand Lake manager Mike Stafford. "They've lost three games in a row and we've lost five games in a row and our job and goal is to win two out of three. Things would look pretty good for us if we could take two out of three from them because we would have Indianapolis left and they (Southern Ohio) would have Columbus (the top team in the league). "Anything can happen if you make the playoffs and that's our goal," added Stafford. "I think that with the personnel that we have on this team, that we can do some damage if we make the playoffs."
A win on Thursday would, no doubt, have really helped Grand Lake's playoff quest, but the Mariners handed the game away after getting off to a great start.
The Mariners led 1-0 after the first inning when Wayne Bond led off with a triple and trotted home on a Bryant Witt RBI single.
The Cows tied the score at 1-1 in the fourth inning when a lead-off single turned into a run after a trio of Mariners let a short flyball in centerfield drop in front of all three of them turning into an RBI single for Derek Lehrman.
Delaware scored the go-ahead runs in the fifth inning on a pair of Grand Lake miscues.
Leif Mahler and Eric Earnhart, the Cows' eighth and ninth batters in the lineup, led off the fifth frame with back-to-back singles and they advanced to second and third following a sacrifice bunt by Jason Zoeller. Grand Lake pitcher Chris Fetter got the second out of the inning on a ground ball that didn't allow a run, but Fetter unleased a wild pitch scoring Mahler to give the Cows a 2-1 advantage. To make matters worse, Grand Lake catcher Josh Eachues then raced after the ball and his ensuing throw to the plate got past Fetter covering home plate allowing a second run to score for a 3-1 Cows lead.
"We gave them two runs on a wild pitch and we come up a run short on the scoreboard, so that's disappointing," said Stafford.
Dusty Hammond scored the Mariners' second run when he reached on an error, stole second base and came home on a Bond single. Bond, Witt, Gaal and Kris Moorman all had three hits for the Mariners.
The Mariners almost tied the score in the bottom of the ninth when Eachues, who struck out three times in the game, singled in his fourth at-bat and left the game for pinch runner Scott Billak. Billak moved to second on a sacrifice bunt by Hammond.
With two outs, Witt hit a soft liner to rightfield but Delaware rightfielder Dan Webb made a game-saving diving catch for the final out of the game.
"I like the way that we battled them to the end and played hard but fell a run short," said Stafford. "I thought that we hit the ball much better in this game (10 hits) but we just didn't get the hits when we had runners on base."
Dan Utts pitched the ninth for a save in relief of Dan DeLucia, who got the win.

------
NOTE -- The Mariners will be shorthanded for the rest of the season as several players are done for the summer for a variety of reasons. Among those lost for the rest of the summer are Corey Luebke (pitcher), Andy Delagarza (pitcher), Brad Seddon (pitcher), Ryan Keena (outfielder), Jedidiah Stephens (infielder), Keegan Laycock (pitcher).
Phone: (419)586-2371, Fax: (419)586-6271
All content copyright 2005
The Standard Printing Company
P.O. Box 140, Celina, OH 45822