By Janie Southard
jsouthard@dailystandard.com
Fred Wiswell thought of his high school in Paulding as a big social center and spent three of his four years there drifting along having a good time.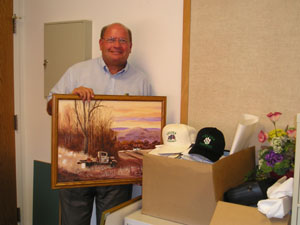 "I wasn't a terrible student but I was certainly more interested in hanging around with my friends than I was in learning anything," said Wiswell this week as he prepares to retire after 27 years in the education profession, most of it spent in Celina. Ultimately, it was as district superintendent.
The peak of irony was when he got his focus in senior year and decided to go to college. His guidance counselor said young Fred should probably rethink that plan. "He told me I'd do better going right to work after high school," Wiswell recalled.
His career with Celina City Schools has been as teacher, coach, principal and finally as a superintendent faced with extreme challenges and tough decisions.
"I am blessed and humbled by experiences in this district ... but if there is a dark time it surely has to be the declining enrollment and budget crisis that caused us to close Franklin School," he told The Daily Standard in his office -- now almost bare of personal mementos. On a nearby filing cabinet are two small packing boxes, a couple of Bulldogs caps, a painting created by a former Celina student and other unassuming riches -- almost 30 years neatly packed and ready to move on.
Wiswell took the superintendent reins at a time when the Celina district was perhaps at its lowest ebb.
"When I took over there were a lot of community barriers to overcome: issues of trust, confidence and goodwill. These were very serious areas to be addressed. But, I never did anything single-handedly. Together with the district staff and administration, we defined the path that would have the most impact to regain the community's confidence," he said categorizing the district at that time as "dead in the water."
He credits the staff and board members with working together to face the challenges and doing the hard things necessary to restore the school district.
Getting levies passed was among the first campaigns to get the community engaged, and the first time out the voters shot it down. Through a well-organized community-focused campaign, the second levy passed.
"Then, for us to come back in less than a year for more money, that was a huge mountain to climb," he recalled.
More challenges lie ahead for the district as state funding and declining enrollment put more pressure on local school administrators. But Wiswell has confidence in Matt Miller, who was promoted to replace Wiswell.
"To my mind, Matt will take this position and soar. He has every skill and trait to really make an impact. He is mature beyond his years," the retiring superintendent said, noting that the district's immediate future poses "more of the same" with regard to funding.
Wiswell's retirement will amount to about two weeks before he starts his new career path leading toward an executive directorship with Otterbein Retirement Communities, headquartered in Lebanon.
Over the next six months, he'll be in Otterbein's administrator-in-training program taking courses at Ohio State University and specialized training in Texas. Next spring he'll take state and national board examinations for his license in nursing home administration.
"It's rather like an internship. I'll be ready when the next directorship within the Otterbein system becomes available," he explained.
Wiswell has background in the nursing profession and said that, had he not gone into education, he'd have been a nurse practitioner. So the new position melds his two special areas: medical and administration.
"I'll still be able to serve others and hopefully enable them to have a better life. That's important to me. I truly believe the Good Lord led me to this position. It just feels right to me," he said, adding he plans to keep his home in Celina and enjoy being part of the community.
Phone: (419)586-2371, Fax: (419)586-6271
All content copyright 2005
The Standard Printing Company
P.O. Box 140, Celina, OH 45822