By Margie Wuebker
mwuebker@dailystandard.com
Jim Maurer's repertoire of organ music runs the gamut from "Amazing Grace" to "Itsy Bitsy Teeny Weeny Yellow Polka Dot Bikini."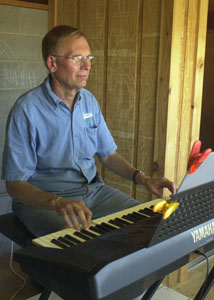 Fortunately, he has yet to make the ultimate faux pas by playing "Take Me Out to the Ballgame" at a funeral service or "In the Garden" at a Grand Lake Mariners baseball game.
Maurer, a retired mathematics teacher, serves as organist at St. Paul Lutheran Church in Liberty Township and plays Yamaha keyboard for Mariner and Challenger League baseball games during the summer.
"I have to be careful and remember where I am," he admits with a smile. "Or the end result could be rather startling."
He points to a recent two-day period as a prime example. Sunday began with church services followed by a Mariner double-header and then a Challenger game. Monday included a funeral and then a ballgame at Jim Hoess Field. Maurer began taking lessons from longtime church organist Goldie Fahncke at the age of 10. He took her place at the pipe organ when she retired and has been there ever since.
He and his wife Karen were introduced to Challenger League action years ago by their son Jeff.
"I sat on the sidelines the first year like other parents," Maurer says. "The second year I brought my keyboard and sound equipment and started playing music."
Participants, all of whom have special needs, enjoyed the music so much he just kept coming back. He smiles, recalling players dancing on the sidelines and marching to the batter's box in time with the music.
The stint with the Mariners, a summer collegiate team in the Great Lakes League, began in 1998 with two games. That number has grown steadily over the years to a point where he misses only one or two nights per season.
"Roy Thompson, a member of our church, had a Mariner player staying at his home," Maurer says. "He suggested music at the games would add a new facet just like in the big leagues."
There are eight teams in the league, but Celina is the only one with a resident organist.
Maurer can be found up in the press box with announcer Mark Wulfhorst, scoreboard technician Ron Heindel and sports writers. He arrives well ahead of time to help with special promotions and to welcome fans in melodic fashion.
"The Mariners built me a perch so I have a good view of the action," he says. "Once in a while I get so involved that I forget to play. Oops! Fortunately, that does not happen often."
Music greets each Mariner coming to the plate in hopes of inspiring a hit or even better a homer. Opposing players receive no "pump-them-up" fanfares.
A coach's visit to the mound prompts short renditions of the Jeopardy theme or the Elvis Presley classic "Don't Be Cruel." A run-in between an opposing coach and an umpire inspires "I Can't Get No Satisfaction."
The crowd has come to expect "Ghostbusters" or the William Tell Overture when the Mariners send in a relief pitcher. "Charge" and 19 other ditties keep fans involved and players motivated.
Maurer remembers making an inappropriate song selection once when the Mariners hosted the arch rival Lima Locos.
"I had finished playing 'Locomotion' when a fan reminded me I didn't need to play anything that could stir up the competition," he says with a smile. "That turned out to be an early learning experience. I don't play anything about railroads, including 'Wabash Canonball' when those fellas come to town. "
Maurer brings youngsters to their feet with the always-popular Chicken Dance and gets local fans -- young and old alike -- involved with "If You're Happy and You Know It." Hundreds of feet tap the bleachers in response to the lyrics. And everyone gets into the seventh inning stretch with "Take Me Out to the Ballgame."
"Sound effects also are part of my repertoire," Maurer says. "We have fireworks when a Mariner hits a home run or when we log a victory. Fans can't see the colorful display like at the big ballparks but they certainly hear the noise."
Organ music continues as fans depart to the strains of "Happy Trails," the old Roy Rogers and Dale Evans classic or "Goodnight Irene." Empty stands signal time to pack up and head for home.
"I have warned the congregation hymns could sound a little baseballish if my mind wanders," he says. "Mariner fans would certainly be surprised if the music there took on a gospelish touch. Fortunately neither has happened -- yet."
Phone: (419)586-2371, Fax: (419)586-6271
All content copyright 2005
The Standard Printing Company
P.O. Box 140, Celina, OH 45822