By Ryan Hines
rhines@dailystandard.com
Grand Lake entered Tuesday's doubleheader against Indianapolis knowing that a sweep would clinch the final playoff berth in the Great Lakes Summer Collegiate League postseason.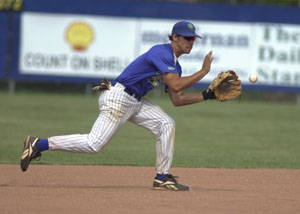 The Mariners made their final home date at Jim Hoess Field an enjoyable one by sweeping the Servants, 4-2 and 4-1.
Grand Lake now stands at 19-20 on the summer while the other contender for the final playoff position, Southern Ohio, is 14-22 (through July 25). Indy, the worst team in the eight-team league, is now 7-29.
"I'm pretty sure that we clinched a playoff berth with the two wins today and that was important for this team," said Grand Lake manager Mike Stafford. "Our goal was to make the playoffs, because once you make the playoffs anything can happen."
The Mariners fell behind early in Game One when Indianapolis' Nathan Colclasure singled home Clayton Lehning to give the Servants a 1-0 lead but the Mariners responded in the third inning. Wayne Bond singled and Bryant Witt was hit by a pitch to put two runners on base with no outs. Ben Gaal then hit a sharp grounder through the left side of the infield for a single which scored Bond. Indianapolis' Steve Raszka then let the Gaal single get past him in leftfield allowing Witt to score for a 2-1 Grand Lake lead.
Grand Lake added insurance runs in both the fifth and sixth innings. Gaal scored Grand Lake's third run with a lead-off walk, moved to third base on a single by Kurt Lauscher and later scored on a wild pitch. The fourth Mariners' run came on a perfectly executed doublesteal as Josh Eachues slid into home plate safely.
Mariners starter, Chris Fetter, settled in nicely after allowing a run in the first as he pitched the first six innings to pick up the win allowing two runs (one earned) and nine hits while striking out three.
Dan Remenowsky pitched the final inning, interrupted by a 30-minute lightning delay, for the save with two strikeouts.
Remenowsky got the starting nod in the second game and picked up the win as he was strong on the hill throwing the first four innings allowing no runs on one hit with two strikeouts.
Bryan Rumple came on in long relief and threw three innings allowing one run on three hits with two strikeouts.
With the way that Remenowsky was pitching, all Grand Lake needed was a quick start offensively and they got it by scoring three runs in the first inning.
Bond reached second base on an Indianpolis error and Dusty Hammond walked before Gaal delivered a double into the left-centerfield alley scoring Bond for a 1-0 Mariners lead. After a pair of strikeouts, Michael Ayala plated both Hammond and Gaal with a two-run single giving the Mariners a comfortable 3-0 advantage.
The Mariners offense struck again in the second inning when Kris Moorman hit a one-out double and scored on an RBI single from Bond. Bond, who also had a magnificent defensive play in the first game gunning down a runner at home plate from centerfield to preserve a one-run lead at the time, had four hits in the doubleheader from the leadoff position drawing praise from Stafford.
"Wayne has been a huge spark at the top of our lineup lately and hit the ball well today," said Stafford. "He's going to give you 100 percent no matter what he's doing and he's helping out our offense. He's a great guy to have in the top spot and he'll be there the rest of the year."
Gaal also had a productive day with two hits, two runs scored and two RBI in the twinbill.
"I think that all the guys are starting to swing the bat much better," said Bond, who started the season hitting in the nine hole. "We've been putting in a lot of extra work trying to improve our offense and it's nice to see some of that work paying off. We struggled for a long stretch in the middle of the season and usually if we can score four runs, with our pitching staff, that we should be in pretty good shape."
The Mariners are back in action on Thursday for a much anticipated rematch with the Lima Locos at Shawnee starting at 7 p.m. There's clearly some bad blood between the two teams in this heated rivalry, which got more intense following Lima's 12-7 win last Tuesday evening at Jim Hoess Field.
"The commissioner called me regarding this game and they changed umpiring crews for this game, so this is clearly a big game in a lot of people's minds," said Stafford. "We're just going to try and play good baseball and try to beat them. Ever since I've been here it's been a good rivalry and we each have two different organizations that do things two different ways. The way that each team carries itself is different on both teams in the way that they play the game."
"With the way that the last game turned out, we just want to go out and beat Lima. It's a heated battle each time we play and we just want to go put a hurtin' on them," said Bond. "We feel like that once we are in the playoffs that we have the talent and confidence on this team to make a strong run because anything can happen in the playoffs."
Phone: (419)586-2371, Fax: (419)586-6271
All content copyright 2005
The Standard Printing Company
P.O. Box 140, Celina, OH 45822