By Janie Southard
jsouthard@dailystandard.com
ST. MARYS -- The population swelled for about three hours Wednesday as 200 XOBA bicyclists threaded through town en route to New Bremen where they'll spend the night.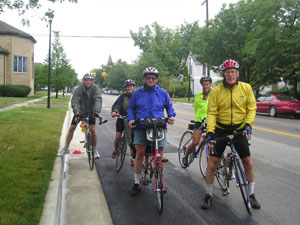 The Across Ohio Bicycle Adventure (XOBA) began Saturday in Manchester where the riders' bikes and luggage were loaded into a moving truck bound for the city of Oregon along Lake Erie. Riders were driven by bus the five hours to join their equipment and then tipped their front wheels in the lake before the pedaling began.
The first day riding took them along Lake Erie to Port Clinton and a ferry across to Put-In-Bay. Night time found them in Oak Harbor.
On Monday they rode to Fostoria and on Tuesday they spent the night in Ottawa.
Mike Lehmann, a recumbent rider from Troy, told The Daily Standard this is the eighth annual XOBA, which he described as an offshoot of GOBA, the Great Ohio Bicycle Adventure that attracts several thousand bicyclists each June. Lehmann said the group would stay at the Auglaize Mercer Family Y in Minster tonight.
"I'm especially looking forward to the bicycle museum in New Bremen," he said.
As Lehmann rode off in search of a restaurant, another group of riders paused for a picture and some conversation, among them Jim Mathis of Leavenworth, Kan., and his daughter-in-law Joanna of Sandusky.
Mathis shipped his bike to Sandusky, and he and his wife followed later.
"Actually my wife is watching Joanna's kids while we're on this ride," Mathis said, also noting this is his daughter-in-law's first long distance ride. She said her goal is to do 70 miles in a day.
Dressed in spandex as are the majority of bicyclists on the trip, Mathis said everyone's luggage goes by van to the next destination.
"All I carry with me is a cell phone, billfold, sunscreen, sunglasses and camera," he said.
Today, XOBA riders will go from New Bremen to Miamisburg and from there to Hillsboro for Friday night lodging.
Saturday's destination is back to Manchester. As the trip coordinator wrote in the daily route description, "the last eight miles are all downhill, no lie!"
Phone: (419)586-2371, Fax: (419)586-6271
All content copyright 2005
The Standard Printing Company
P.O. Box 140, Celina, OH 45822