By Gary R. Rasberry
grasberry@dailystandard.com
COLDWATER -- Over the last 10 years, the Coldwater ACME program has made it to the state tournament on several occasions, but it's been 11 years since the Cavaliers got a chance to play on the last day of the summer season.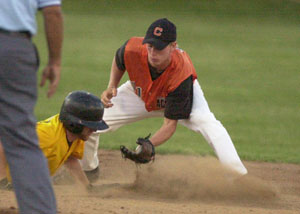 The Cavaliers defeated Fairview 10-0 in just six innings during the winner's bracket final on Wednesday to put the Cavaliers in the state championship game for the first time since 1994, when Coldwater won its eighth state ACME title.
Coldwater head coach Romie Schwieterman has been more than pleased with the way that his Cavaliers are playing thus far in the state tournament.
"Fairview is a better team than what they showed tonight," said Schwieterman. "But these guys are on a roll. They're in a hitting trance (Coldwater collected 13 hits). We played a complete game."
The championship game starting time, originally scheduled for 2:30 p.m., was pushed ahead to a 3 p.m. start due to a swim meet in Memorial Park. In order for the Apaches (22-8) to gain a chance for a rematch, they will have to defeat Bellefontaine on Friday at 7 p.m. at Veterans Field in the loser's bracket final. The Chieftains remained alive in the tournament by avenging their first-round loss to Elida with a 7-6 win. Bellefontaine led Elida 7-2 going into the seventh before giving up four runs in the inning to cut it to 7-6 before finally ending the game.
The night was much easier for the Cavaliers as starting pitcher Steve Borger went six solid innings, keeping the Apaches hitless for the first three.
The Coldwater defense came through in the only chance Fairview had to score in the third. Radcliff led off the inning by breaking up the no-hitter with a single. Levi Kuhn grounded deep into the gap between first and second and Coldwater second baseman Troy Siefring made a stop to keep it from getting into the outfield, but was unable to make a play.
Borger got Toby Hill to pop to short for the first out, induced a flyout to right by Peter Runk and then ended the threat by striking out Toben Stark.
"Steve gave up a walk and gave up a hit on a knuckler that didn't knuckle," said Schwieterman. "He gave up just (four) baserunners. That will win you a lot of games. That's a credit to his success. We also had great defense. I can't say enough about it."
By this time, Coldwater had blown the game wide open, getting the offense started in the first when Brady Geier doubled, moved to second on a bunt by Tyler James, and scored on Siefring's single. The Cavs scored five in the second, chasing Apache starter Runk after just 1 1/3 inning. Siefring doubled two runs in and Cory Klenke doubled in one run during the spurt, which saw Coldwater send nine batters to the plate.
Coldwater scored two more in the third and added one in the fifth before ending the game with two outs in the sixth.
Klenke, who will only be a freshman this upcoming school year, scored all three times he batted, going 3-for-3 with a double and a triple. Siefring went 3-for-4 with three RBI while Geier went 2-for-3.
Now Coldwater is in position to add a ninth state title to go with seven runner-up ACME trophies through the years.
"I told them we had teams with (assistant coaches) Tom (Brunswick), Bill (Klenke), Matt (Loughridge) that never won it all," said Schwieterman. "It's a terrible feeling. Even though you got there, it doesn't feel as good. I want to make them put a new sign out there (on the outfield fence). They'll never take that away from you.
"In class reunions, they don't talk about what grades you got in math class or grade point averages. It's 'Hey, we won the state title.' That's what you want to think about right now -- to set yourself to where there's no regrets, you're on cloud nine and you can say you won."
Phone: (419)586-2371, Fax: (419)586-6271
All content copyright 2005
The Standard Printing Company
P.O. Box 140, Celina, OH 45822