By Shelley Grieshop
sgrieshop@dailystandard.com
If you've never smelled walnuts cooking on a hot plate, consider yourself lucky -- it stinks.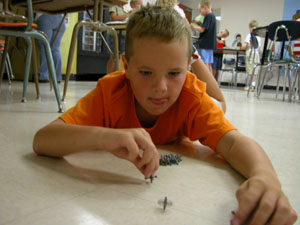 That's what a group of youngsters discovered this week during a special program for gifted children held at the Galleria in Celina.
"It smells like cooked sandals," says Kendall Gilmore, 6, of Celina, as she wrinkles her nose at the aroma.
The walnuts are near boiling, one of the stages necessary before turning them into ink. Yes, ink, a substance once made at home. Nearby, strawberries are being smashed with the help of little fingers and they, too, will become ink for feather pens after adding vinegar and salt.
The first- and second-grade students from "colonies" all over Mercer County are learning about life in Colonial America, 1620-1776. The weeklong program is part of Kid Connections, a summer workshop sponsored by the Mercer County Educational Service Center (MCESC). The project was started by former MCESC gifted coordinator Ken Rosengarten. It costs $80 for children to attend a one-week session.
Interest has grown considerably since the program de-buted in 1999 with about 50 children and twice as many on a waiting list. This year 110 students were divided into one of the four sessions organized by Beth Smalley.
Smalley, a special needs teacher with the MCESC, said children qualify for participation after receiving recommendations from educators.
"They have so much fun here, and we all learn so much," Smalley says.
This summer's program was dubbed "Candlesticks, Cornered Hats & Colonists," and the children took to the activities quickly, she says.
The little Masters and Misses, as the youths were called throughout the day, were busy Wednesday poking holes in coffee can lanterns. Candles made earlier this week will be placed inside and shine through the holes when lit, Smalley explains.
"My hands are getting cold," says one little girl as she clutches the ice-filled can.
The chunks of ice keep the cans from bending when pounded with holes. A teacher's aid quickly instructs the girl to warm her fingers on a nearby towel.
In another area, children construct their own Poor Richard almanacs and fill the pages with weather myths. Posted on the wall are several like "Crows gathered around the ground, a sign that rain will soon come down."
Smalley reads another from a list: "Red sky in the morning, take warning. What do you suppose that means?"
"A tornado is coming," replies Alyssa Hoyng, 6, of Celina.
Smalley assures her the warning is likely for a thunderstorm or something less dramatic than a tornado.
The almanac pages look old and weathered by design. Earlier this week the children wadded their pages, soaked them in strong coffee and tea water and left them to dry to create the aged appearance.
"This is my favorite activity," says Kaelan Vogt of Coldwater, as the little illustrator shows her colorfully drawn pictures and text. "I love to read."
Small cloths that will be used to practice sewing skills another day this week also were given the antique appearance. Instructors boiled them in onion skins before wringing them out to dry. The final product looks quite authentic.
The children work at several stations by candlelight to mimic the absence of electricity. Jacks and marble games are getting a workout in one room while other students do recitation (homework) in a simulated one-room schoolhouse nearby.
At the conclusion today, the youths will dazzle the "upgrowns" (grown-ups) in their family by explaining how to make items like colorful marble-streaked paper.
Cole Brady, 7, of Coldwater, says he's glad he came this week but even happier he didn't live in early America.
"It was way too hard," he says.