By Ryan Hines
rhines@dailystandard.com
The Grand Lake Mariners started the season with a goal to make the Great Lakes Summer Collegiate League playoffs and they have officially done that.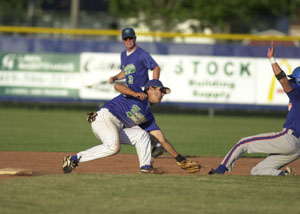 So, now that the Mariners have reached the postseason being played at Bill Davis Stadium on the campus of The Ohio State University beginning on Wednesday, now what?
Grand Lake enters the postseason as the sixth seed (19-21, with one game to go today at league-leading Columbus) with a multitude of injuries and a struggling offense.
So the question remains, can the Mariners do any damage in the GLSCL playoffs?
Grand Lake manager Mike Stafford certainly believes so. "The goal all along was to be able to get into the playoffs," said Stafford. "Now that we've done that, we feel that we still have the type of team that can do some damage in the playoffs. With the team that we have left, there's enough here to make a run."
Stafford referred to the team as 'the team he has left' because the Mariners have been decimated by injuries this summer.
Grand Lake will be missing three critical starting pitchers due to injury along with another five position players out with injuries, not including versatile hurler Keegan Laycock, who quit the team. The Mariners could have used Laycock's postseason experience after Laycock helped lead Lima to the playoffs title a year ago.
"The guys that we have on this team are playing with a lot of heart right now and that's good to see because you always believe that you have a chance when the team is playing aggressive and with heart," added Stafford. "We had a tough stretch in the middle of the season but we have battled back and we start over new now with the postseason."
The injuries hit the pitching staff hard as Corey Luebke (3-0, 0.64 ERA), Andy Delagarza (3-0, 2.67 ERA) and Brad Seddon (1-1, 4.80 ERA) are all sidelined. Luebke and Delagarza would likely have started in the first two playoff games.
"Our strength has been out pitching all year long and we still have the type of guys on our staff that can get the job done and they've proven that because we've been without a lot of the injured pitchers for a while now," said Stafford. "
Ross Liersmann (1-5, 2.30 ERA) and Chris Fetter (1-3, 2.84 ERA) appear to be the top two hurlers for Grand Lake with T.J. Sheridan and Brian Rumple also ready and available.
Mariners pitching, which has posted a 2.65 ERA (second best in the GLSCL), isn't nearly as much as a concern for the Mariners as their offense.
Grand Lake is near the bottom in all offensive statistical categories including batting average (.234 ,second worst), runs (106, second worst) and hits (242, second worst). Those offensive figures are second only to Indianapolis, which finished last in the GLSCL with a 7-29 mark.
"Our offense is starting to come around, I think, a little because, with all of our injuries, the same guys (just 10 position players remain for Grand Lake) are in the field day after day and getting in a rhythm at the plate," said Stafford. "The more swings that these guys are taking on a consistent basis will help them get better."
Statistically speaking, the top Grand Lake offensive threat is leftfielder Ben Humphrey, who leads the team with a .287 batting average, 14 RBI and three home runs to go along with six doubles. Rightfielder Ben Gaal (.257), centerfielder Wayne Bond (.253) and first baseman Josh Dietz (.250) are the only other Mariners hitters to be hitting .250 or better.
Columbus has to be the favorite heading into the postseason since the All-Americans won the regular season by a wide margin (28-10). Stark County (21-16), Lima (20-16), Delaware (19-15) and Lake Erie (20-18) all seem to be potential champions as well depending on who gets hot in the playoffs.
"Any team that makes the postseason and win it," said Stafford. "Once you get there, it's a whole new season and what you've done in the past doesn't matter anymore, it's a fresh start."