By Gary R. Rasberry
grasberry@dailystandard.com
COLDWATER -- It appeared to be a prefect scenario for the Coldwater Cavaliers as they entered Saturday's 2005 ACME state championship game against Bellefontaine.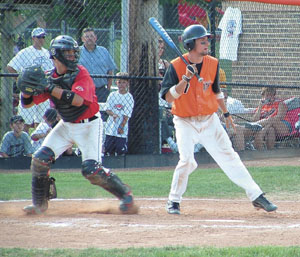 Coldwater went 3-0 through the winner's bracket and had its pitching staff well-rested after two full days off.
Bellefontaine, which lost its state tournament opener last week, had to fight through the loser's bracket and, with a well-worked pitching staff, had to win two games on Saturday to win a second straight ACME title.
Fans packing Veterans Field in Coldwater saw a gem of a game in the opener as Bellefontaine's Tyler Melling outdueled Coldwater ace Sam Slavik in a 2-1 win to force a second and deciding championship game.
In the second game, Bellefontaine broke a 5-5 tie with four runs in the seventh inning to post a 9-5 win and capturing a second straight state ACME title and a third title in four years. The Chieftains end a stellar summer with a blistering 41-3 record. The Cavaliers, who were looking for a ninth state title, settled for an eighth runner-up finish with a mark of 27-10. Since the first ACME Baseball Congress final in 1961, the Cavaliers played in the championship game 16 times.
"We didn't even talk about the second game to the kids," said Chieftains coach Mike Mosbarger. "The coaches talked about it a little bit about, 'what are we going to do?' Tyler Melling threw a heckuva game in the first game to get us in that position. He deserves a heckuva lot of credit for that."

Game One
Bellefontaine 2, Coldwater 1
The Chieftains scored a run in the bottom of the first and for a while it appeared that it would be the only score of the game the way Melling and Slavik were throwing on the hill.
Nate Hauck led off the inning with a walk, stole second and moved up on a groundout by Sean Simon. After Josh Wallace struck out, Mark Schoeck singled home the run.
After that, Slavik was in control, allowing just three hits the rest of the way and walking none.
"Sam pitched a helluva ballgame," said Coldwater skipper Romie Schwieterman of Slavik, who went from pitching junior varsity in the spring to becoming the ace throughout the summer. "He gives you a good outing every time he goes out. He earned the number one this summer when Kirby (Timmerman) went down (with injury). He's going to keep you in the ballgame."
Melling was also in a groove striking out eight in the first six innings and didn't allow a hit until the fourth when Troy Siefring poked one through the right side of the diamond.
"He's a good pitcher. He mixes it up well," said Schwieterman of Melling. "Doggone it, you just keep hacking away."
Bellefontaine got its second run in the bottom of the fifth on a scary moment for Cavalier fans.
Hauck reached on a walk and after Slavik was able to record two outs, Shoeck lofted a fly that looked to be over Ryan Geier's head.
Ryan Geier gave chase and tried to dive for it, but went down hard and Brady Geier had to run over to get the ball as Ryan Geier did not get up. Schoeck strolled into second base with a double as Hauck scored easily from first.
Ryan Geier was down for several minutes before leaving the field under his own power, but did not return in the first game and did not play the second game.
The insurance run proved to be needed as Coldwater tried to launch a comeback in the top of the seventh.
Cody Muhlenkamp walked on four straight pitches and Borger tried bunting him over to second base, but Melling bobbled the ball to give the Cavaliers two baserunners.
Riley Muhlenkamp came up with the at-bat of the day, forcing Melling to throw nine pitches -- fouling off four pitches after strike two -- before singling home Cody Muhlenkamp to make it 2-1 and moving Borger to third.
Slavik then lofted a short fly to right, keeping Borger from scoring, for the second out before Cory Klenke stepped in and grounded into the game-ending double play.
"It's a cruel game," said Schwieterman about baseball. "(If) that ground ball was up the middle another 5-6 feet, it's a base hit. Instead, it's a tailor-made double play. It's like 'Where's the justice?' Sometimes, it just ain't there."

Game Two
Bellefontaine 9, Coldwater 5
The Chieftains started the second game like the first, taking the lead early, but this time, Coldwater scored two in the bottom of the third to go up 3-1.
Bellefontaine got back and cut it to 3-2 in the top of the fourth. After Coldwater got another run in the bottom of the fourth, Bellefontaine began to hit Cavs starter Steve Borger.
Simon singled to lead off the fifth and Wallace doubled to put runners on second and third. Schwieterman wasted no time and brought on unbeaten Kirby Timmerman to try and get out of the jam.
Walden grounded out to second to score Simon and also moved Wallace up one base before Timmerman uncorked a wild pitch to score Wallace and tied the game at 4-all.
"When we got down 3-1, there were some concerns," said Mosbarger. "Give the kids credit, they battled. These guys understand that when they get down a little bit, they don't need to get a grand slam with the bases empty. It's one at a time."
"You think, well, maybe now we can hold them. Maybe this will do it," said Schwieterman. "To their credit, they kept battling back. We threw everything at them. If we had a kitchen sink, we would have thrown it too."
Coldwater answered again with a run in the bottom of the inning, but Bellefontaine tied things up at 5-all in the top of the sixth with a run-scoring single from Simon.
Bellefontaine kept threatening in the inning as Timmerman left and Siefring came on and got the final out. Wallace, in relief of Ryan Portwood, kept Coldwater scoreless in the sixth.
Siefring started the seventh off the wrong way by hitting Walden with the first pitch. Portwood forced Walden at second with a grounder to the mound, but Siefring hit Melling to put runners on first and second for Adam Pulfer, who already was 2-for-3 with two doubles in the game. Pulfer took the 0-1 offering deep to right-center scoring Portwood with the tiebreaker.
Hauck cleared the bases with a double to make it 8-5 and Simon wrapped up a 4-for-5 day with a single to score Hauck and chased Siefring from the mound. Borger was forced to come back in and get the final out.
"When we get everyone hitting a little bit, it spreads throughout the lineup," said Mosbarger, referring to the fact six hitters had at least a single in Game Two. "Fortunately for us, we sustained that for 14 innings."
Wallace got the ball in the bottom of the seventh inning and sent down the Cavaliers in order, 1-2-3 to end the game.
"Josh has been there before. He's a gamer," said Mosbarger. "When (Coldwater) made the pitching change, he was the one coming up (to bat). I asked him if he wanted the last three outs and he said yes. At that point, my mind was made up."
"That top of the seventh just killed us," said Schwieterman. "Get down four late to a good team like that is tough."
Pulfer was named the tournament's Most Valuable Player after going 12-for-18, including 5-for-8 in the championship two-game series.
"I couldn't be happier for him," said Mosbarger, shaking off the effects of a ice water bath from his players. "He's played two years of jayvee ball and waited his turn in line behind a big senior class. We just couldn't get him out of the starting lineup once we put him after the first loss."
Schwieterman praised his team for a great season.
"So many kids stepped up. It would take me an hour to thank all of the assistant coaches (Tom Brunswick, Matt Loughridge, Bill Klenke and scorer Tim James)," said Schwieterman. "We got beat by Fort Recovery (2-1) early in the season and we were absolutely pathetic. If you would have told me then we'd be in the state championship game, I would have sent you to the loony house and I would have gone along with you. They have really matured. The seniors really stepped up and did everything we asked.
"It was a blast. It keeps you going. Run around like wild (to) get places on time and you get the satisfaction of seeing them perform like they did this year, it makes you feel great," concluded Schwieterman.