By Janie Southard
jsouthard@dailystandard.com
WAPAKONETA -- The fine arts building was the place to be on opening day at the Auglaize County Fair as people pulled up in cars and vans to unload all kinds of goodies like fresh fruits, vegetables, canned produce, cut flowers, pies, cakes and cookies.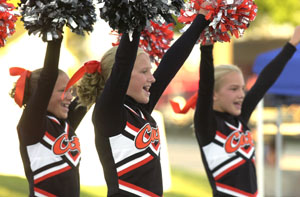 One woman raced in and out of the building five times Monday, bringing in her baked goods two plates at a time. Herb and Janice Warnecke of Spencerville have the whole thing down to a science after 15 years of bringing Janice's pies to three fairs a year.
She entered six different pies this year: peach, pecan, pumpkin, apple, mince meat and cherry.
"I made them all yesterday. I think pies need some time for the flavors to settle," said Janice Warnecke, who is no stranger to first place and has too many blue ribbons to count.
Pies, cakes and cookie entries hit an all time high this year with 340, 80 more than last year. But fresh-grown veggies and fruits were way down. "It's the dry weather. A lot of things didn't have a chance. I had 1,800 entries all together but many people just didn't have the produce to bring in," said Larry Kill, a fair board member for many years and chairman of the fine arts department among other responsibilities.
The weather also took its toll on cut flowers, which were judged this year by a group of Master Gardeners of America members.
Master Gardener Ken Strickland of St. Marys acted as adviser to the five apprentice judges from Allen and Van Wert counties.
Operated through county extension services, the Master Gardener Program provides horticulture training to interested people who then volunteer to help with educational programs and activities for Ohio residents.
It originated in Seattle in 1972 and is now nationwide as well as in Canada and other countries. The gardeners must complete 45 hours of classroom training and commit to 40 hours of volunteer service to the community.
"Before you can get certified as a judge, a Master Gardener has to judge three or four shows. That's what these folks are doing here today," said Kill, himself a Master Gardener.
As the five moved down the table judging roses, Strickland told The Daily Standard that first and foremost a flower must look the way that variety should look.
"It's difficult here because the roses are all together. There are actually six kinds of roses: hybrid tea, floribunda, grandiflora, miniature, shrub and old fashioned. And, they are very distinctive," Strickland said, adding the rose should be displayed in its best form.
"Some roses are best in bud with just slight opening. Others are best fully open. Of course weather is also a factor this year. As you can see, some (fair entries) are starting to brown. Roses need an inch of water a week. We haven't come near that," Strickland said.