By Margie Wuebker
mwuebker@dailystandard.com
WAPAKONETA -- Young men and women in uniform are a common sight at this week's Auglaize County Fair where they handle the parking detail, answer questions, provide directions and patrol the grounds.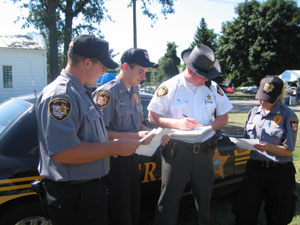 The fair marks the official debut of Auglaize County Explorer Post 600. The post, comprised of 11 members ranging in age from 14 through 20, operates under the auspices of the Auglaize County Sheriff's Office.
"The program is geared toward those with an interest in law enforcement," says Deputy Doug Burke. "This is a good starting point -- giving them a realistic view of what the job entails."
Burke oversees the post and arranges training ranging from defense tactics and traffic crash reconstruction to first aid and weapons safety. He also serves in an advisory role for post officers -- Lt. Brian Vernon, First Sgt. Sam Blank and Second Sgt. Leigh McCullough -- during monthly meetings.
Establishment of an Explorer program is one of the goals Sheriff Al Solomon put in motion when he took office in January. An informational meeting was held the following month with Post 600 officially established in April. "This program is important because it shows kids the positive side of law enforcement," the sheriff says as Burke checks fair schedules with post officers. "The relationships they develop now will carry over into later life."
Vernon, a 2003 graduate of Wapakoneta High School and a student at Rhodes State College, wants to be a police officer or a deputy, possibly working with a K-9 unit.
"The sheriff's office is doing great getting young people involved," he says. "I especially like the ride-along program where we accompany a deputy on the road for a minimum of four hours to a maximum of eight hours per month."
Blank, a 2004 Wapakoneta High School graduate who attends Rhodes College, also enjoys this aspect of the program.
"You see real life action instead of what the television portrays," he says. "There is more to the job than jumping fences and breaking down doors. Accompanying deputies gives me a whole new appreciation for how they deal with people in all kinds of situations."
Blank, who wants to work with a K-9 unit in the area of drug investigations, said some fairgoers approached him with concerns assuming he was a deputy. His uniform and black baseball-type hat bear insignias identifying him as an Explorer. He quickly referred the concerns to the appropriate authority -- the deputy accompanying him on patrol.
McCullough, a senior at Apollo Career Center and a post-secondary student at Rhodes College, likes being part of the first Explorer class.
"We get to set a standard for others to follow as the program grows," she says. "Being an Explorer gives me a realistic view of what law enforcement is all about instead of just reading about the profession in a book. I hope to work in the area of forensics some day."
Their current assignments began with a special meeting to discuss what would be expected during the coming days and to learn the layout of the fairgrounds. Headquarters for the week is the sheriff's building near the west gate, but they will rotate between parking lots, gate duty and patroling the grounds with a uniformed deputy.
"It certainly has been hot," Vernon admits with a smile. "We are in uniform but at least we don't have vests under our shirts like the deputies."
Looking professional and acting respectable are just two of the requirements Burke sets forth. Maintaining good grades and passing training courses are also important.
He admits fair week is a test of sorts to see whether the young people can put into practice what they have learned thus far. There will be other learning opportunities in the future as Solomon plans to "loan out" participants for other area events.
"Explorers working at the fair are a good advertisement for the program," Burke says. "There will be another informational meeting in the future as we continue to grow."
Phone: (419)586-2371, Fax: (419)586-6271
All content copyright 2005
The Standard Printing Company
P.O. Box 140, Celina, OH 45822