By Ryan Hines
rhines@dailystandard.com
COLUMBUS -- There will be no repeat champion in the Great Lakes Summer Collegiate League playoffs.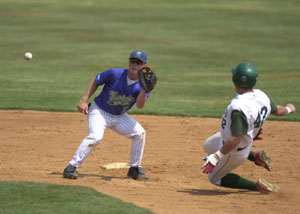 The Grand Lake Mariners took care of that.
The Mariners dropped their first game of the playoffs, 5-4, on Thursday against Stark County, but rebounded with a 5-4 win in an elimination matchup later in the evening against the rival Lima Locos. Grand Lake's win pushes the Mariners into the early game today at 11 a.m. against Lake Erie at Bill Davis Stadium on the campus of the Ohio State University.
The 2004 tournament champion Locos bow out for the summer with a 22-20 mark.
"This is a huge win," said Grand Lake manager Mike Stafford following the victory over Lima. "It's a great feeling to beat a team like that twice, especially when they come in the playoffs. It's nice to go out against Lima (Stafford won't be able to coach the Mariners next year because of a higher position with Ball State's coaching staff) with two wins and know that I'll never have to see Lima again for the rest of my career." Game One saw the Mariners leave 13 men on base in the defeat to Stark County while Grand Lake came up with the clutch hits to come away with a victory over Lima.

Game Two
Grand Lake 5, Lima 4
Archrivals squaring off in an elimination game provided the fans in attendance an intense game between the Mariners and the Locos.
Grand Lake lefthanded hurler T. J. Sheridan pitched better than a number-three starter on Wednesday night by tossing seven innings of two-hit ball with nine strikeouts and six walks. Sheridan, who didn't allow a hit until after 61ò3 innings, threw 152 pitches in the game and allowed four runs, only one was earned.
"I got behind too many guys and I walked too many guys, but the main thing when you are a pitcher is to come away with a win and we were able to do that," said Sheridan, who joked about needing some Advil for his arm after the long outing. "I started to get a little tired in the fifth or sixth inning but this is the tournament and it's going to be my last start of the summer and I wanted to tough it out."
"T.J. struck out a lot of guys and walked a lot of guys so his pitch count got big, but he was in a rhythm out there and didn't want to come out," said Stafford. "T.J.'s a competitor and I don't think that I could have taken him out of there because he wanted this win so bad."
Lima picked up two of those unearned runs in the fourth, as Sheridan lost his focus for an inning.
Mark Abro walked to lead off the inning, after an out was made, and was followed with another walk to Jay Morrow. A Grand Lake error moved both runners up one base and a wild pitch from Sheridan plated Abro. A strikeout and wild pitch allowed Galen Schumm to load the bases before Sheridan walked Matt Bolton to force in another run for a 2-0 Lima lead.
Grand Lake tied the game in the fifth frame when Witt and Bond each singled before a two-out, two-run double from Dusty Hammond tied the score at 2-2.
The Mariners grabbed the lead in the sixth frame with the help of more Grand Lake clutch hitting.
Ben Humphrey walked, moved to second on a bunt and to third on a wild pitch before Witt brought him home with a one-out single. Witt then stole second base before scoring on a Bond two-out RBI single.
Another two-out hit for the Mariners provided the much-(Continued from page 1B)

needed insurance run in the seventh inning.
After a pair of strikeouts to start the inning, Humphrey tripled to centerfield when Lima's R.C. Dickerson dove and missed a sharp liner. Kurt Lauscher brought him home on an infield RBI single.
An Abro run-scoring single and a Sean Boley pinch-hit RBI single gave Lima two more runs but Brian Rumple replaced Sheridan on the hill in the eighth inning and threw two innings of scoreless relief for the save.

Game One
Stark County 5, Grand Lake 4
The Mariners lost a heartbreaker in the 11 a.m. contest against Stark County as the Terriers plated the winning run in the bottom of the 10th inning.
Stark County broke a 4-4 deadlock in the bottom of the 10th when Marcus Geiselman lined a two-out double down the rightfield line and was then followed with a RBI single from Brandon Caipen for the game-winner.
It was a back-and-forth affair in the early going.
Grand Lake scored twice early on in each of the first and third innings, but then went seven scoreless frames, despite threatening to score in nearly every inning. The Mariners' downfall came with 13 runners left on base, including nine in scoring position.
"The good thing about his game is that we were able to have another good offensive day by getting hits, but what we were lacking were clutch hits, because we left far too many guys on base," said Stafford.
Down 1-0 after the first half of the first frame, the offense for the Mariners came from Witt and Gaal. Witt had a one-out double in the first and came home on a RBI double by Gaal to right-centerfield. Gaal then scored on a Stark County error for a 2-1 advantage.
The Terriers retook the lead with two runs in the top of the third before the Mariners were able to respond in the bottom half of the inning.
Witt reached on an error for Grand Lake and Gaal followed a single, his seventh straight hit to start the GLSCL playoffs. Ben Humphrey drove them both home with a ball that was crushed to centerfield and short-hopped the wall for a two-run double and a 4-3 Grand Lake lead.
Stark County tied the game in the fifth inning when leadoff man Joe Tucker singled for the third time in the contest, advanced to second on a sacrifice bunt and trotted home on a Ronnie Bourquin RBI single.
Grand Lake lost the game despite 12 hits, the second straight game with double-digit hits after collecting 19 against Lima on Wednesday.