By Gary R. Rasberry
grasberry@dailystandard.com
ST. MARYS -- For years until his sudden passing this past February, Ralph Guarnieri provided the area with some of the most memorable calls of games from teams in the area.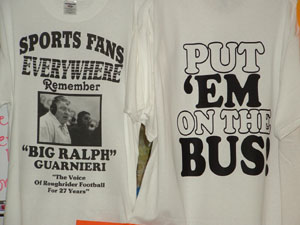 dailystandard.com">
Now, his voice -- and his famous catchphrase -- will live again.
The family of Guarnieri and Sunburst Promotions in St. Marys will be putting out items to sell to raise money for the "Big Ralph" Guarnieri Scholarship Fund established after his death.
The project was actually two independent ideas that came together the last couple of months.
"I actually contacted Dom and Angie (Guarnieri, the son and daugher of Ralph) to come about because we had this idea about the T-shirt we would like to do in his honor and knowing they had a scholarship set up in his name," said Sandy Matthews, owner of Sunburst. "We were wanting to help with that, knowing people were very fond of him and his sports broadcasting. "We asked them and we were very fortunate. Then they said they had this idea."
The idea was to put together a compact disc of some of the most memorable calls Ralph made in his 27 years as the voice of St. Marys football on WKKI. Dom (Continued from page 1B)

and Angie culled 27 years of tapes saved from games to put together what they thought was the best calls.
"We started out as an idea to make some money for the scholarship fund," said Dom Guarnieri. "He'd been doing Roughrider football for 27 years. Why not give something back."
The process of listening to the tapes, spanning several eras of Roughrider football, was a long process.
"There's over 400 games. We had to listen to all kinds of tapes," said Dom Guarnieri. "Everything from 1979 to 2004."
"It's been a lot," said Angie Guarnieri. "There's been a lot of listening, editing, finding highlights, but there's from each year, let me say.
"There's different generations. There's dads of people we know and now the sons are playing. That makes it more special, because you can find somebody whose kid is playing right now but also (Ralph) called the games of the dads."
Even before the CD was put together, there was interest.
"People wanted whole seasons and everything," said Dom Guarnieri. "The best thing to do was do 27 years of highlights. A lot of people would enjoy that."
The compilation, which the Guarnieris are doing from home on their computer, could also lead to bigger projects. One example would be games from the state championship years of 1990, 1992 and 1993.
"Somebody wants, say, the 1987 or 1988 season (or) the championship years. We have those complete seasons," said Angie Guarnieri. "It could go something more like that."
The T-shirts has a photo of Ralph and Dom on the front. On the back, in large letters, Guarnieri's trademark call to signal the game was in hand: "Put 'em on the bus!"
Even though the shirts and CD will not be offiically out until Aug. 12, there is plenty of interest.
"Even just previewing the T-shirt, so far, people are just buying them right and left already," laughed Matthews. "They're not officially on sale yet. People have been saying 'Oh, I want one of those.'"
Dom and Angela -- who often teamed up to cover games with their father -- are also looking to release a CD of some of Ralph's calls from high school basketball games as well.
The plan is to have two scholarships set up annually from the proceeds of the sales. Sales from the CD of St. Marys football will go towards a scholarship for a St. Marys student. The basketball CD proceeds will likely be open to students from St. Marys, St. Henry and New Knoxville, three schools Guarnieri covered often during his years.
The T-shirt will cost $12. The CD will be $10. A combination deal of a shirt and CD will be availble only at Sunburst for $20.
The Guarnieris will place order forms for the CD at area businesses along with at Sunburst.