By Ryan Hines
rhines@dailystandard.com
COLUMBUS -- Trying to fight through the loser's bracket finally caught up with the Grand Lake pitching staff as the Mariners were eliminated, 7-1, by Lake Erie in the Great Lakes Summer Collegiate League playoffs on Friday afternoon.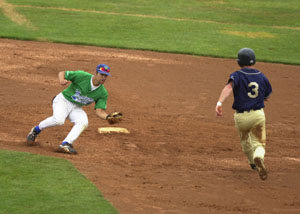 Lake Erie was later eliminated by Columbus in the nightcap on Friday night. Stark County is the lone team that remains unbeaten after beating the All-Americans in the second contest of the day.
Stark County and Columbus, the top two seeds entering the playoffs, will battle each other today for the GLSCL playoffs championship.
For Grand Lake, which finishes the summer at 22-23, all they can do is think about what might have been.
"From the first pitch of the game, we weren't ready to play. I think that last night (win over Lima) took a lot out of us," said Grand Lake manager Mike Stafford. "We had an extra-inning loss earlier in the day on Thursday and an emotional game late and I think that just took a lot out of us." Grand Lake went up 1-0 in the first inning on an RBI single from Josh Dietz, but Lake Erie went on to score the final seven runs of the game and coasted to the win behind a strong pitching effort from Josh Ruhlman.
Ruhlman, who entered the game with a record of 0-3, pitched a complete game allowing just one run while scattering 10 hits and striking out eight with one walk.
While the Monarchs rallied Ruhlman, the pitching-starved Mariners were searching for a starter and Jeff Loveys drew the assignment.
Loveys, the Grand Lake closer for most of the season, drew his first start of the summer and it was a rough debut. The hard-throwing righthander went the first three innings for the Mariners and allowed four runs -- one earned -- on two hits while issuing seven walks with only one strikeout.
"Jeff is a guy that I've used in the seventh, eighth or ninth innings this year and it isn't his role to be a starting pitcher, so that was new for him," said Stafford. "He was a little nervous and was trying to aim it a little too much, instead of just letting it go and his velocity was down because of that."
Dan Weiss, the last available Mariners pitcher, pitched 42ò3 innings of relief allowing three runs -- one earned -- on two hits with four walks and four strikeouts.
The stat line for Loveys and Weiss isn't pretty but they were also victims of some shoddy defense, particularly from the left side of the Grand Lake infield. The Mariners committed five errors, two each by third baseman Kris Moorman and shortstop Bryant Witt. Weiss had the other.
(Continued from page 6)

The defensive lapses started for the Mariners with a 1-0 lead in the first frame. Loveys walked the bases loaded and Moorman committed one of his errors handing Lake Erie a 2-1 advantage.
That's all that the Monarchs needed for the win, but the Mariners continued to give them plenty more insurance runs.
Six of the Lake Erie players that scored a run, reached base on either one of Grand Lake's 12 walks or five errors.
"It's always tough to win a game at any level when you walk as many people as we did and when you make as many errors as our defense made," stated Stafford. "We gave them far too many runs. We didn't make them earn too many of their runs that they scored."
Grand Lake outhit Lake Erie (10-5), but the clutch hitting wasn't there for the Mariners as they left 11 runners on base.
"We had 10 hits, but we couldn't get things done on the pitching end," said Stafford. "I'm going to be honest, we were really struggling to find some pitching for this game. We had to use two guys out of their roles and it showed."
Collecting multi-hit games for the Mariners were Witt, Dietz and Kurt Lauscher.

------
For more pictures from the game, log on to www.dailystandard.com.