By Betty Lawrence
blawrence@dailystandard.com
Kevin Fennig of Celina spent six years in the Army, serving two tours of duty in Iraq, and found out Sunday just how proud he could be when he accepted the military's Purple Heart award.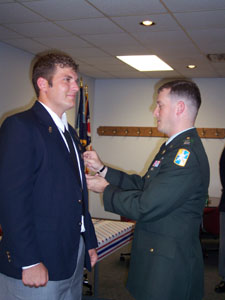 The Purple Heart is the oldest military decoration in present use and is awarded in the name of the President of the United States to members of the Armed Forces who are wounded during conflict. Fennig, 25, received shrapnel wounds to his lower back while serving his second tour in Iraq from January 2004 to January 2005.
During a special ceremony at the Celina Veterans of Foreign Wars post Sunday, Fennig accepted the military merit badge from Capt. David Shapiro and 1st Sgt. Brian Brown, who he served under, of Fort Gordon, Ga. They are all part of Bravo Co., 202nd Military Intelligence Battalion, and all served in Iraq.
"I was in Fallujah with a Naval Criminal Investigation Service (NCIS) agent. We were interviewing a local national from Turkey when all of a sudden we heard an incoming mortar round, about 200 meters, in the building we were in," Fennig recalled. "We hit the ground, and I was on my hands and knees, covering the Turkish man. As I was over him, there were more rounds, from 100 meters, then 50 meters and the last round hit five meters, sending shrapnel through the windows and building. That was when I was wounded, although I didn't know it right away."
Fennig said he felt overjoyed, happy and proud of his accomplishments when he learned he would be receiving the Purple Heart. He stood at attention as the badge was pinned on him. His family and girlfriend watched with tears in their eyes, and a standing ovation followed after the pinning.
"You know, we did a lot of convoys over there. We would go out on security missions, and we faced enemy fire quite a bit. You just never knew, when you went out the gate, if you would be back," Fennig said. "I would always say a little prayer to myself, and the soldiers would get together and say prayers before and after each mission."
Sadly, Fennig did have one friend killed while he was in Iraq.
"She was out on a convoy, and as far as I know, there was a roadside bomb that hit the truck she was in. She got thrown and the vehicle landed on top of her," he said of his 28-year-old friend from New York.
Fennig no longer serves with the Army and was honorably discharged earlier this year.
"You know, if I had to do it all over again, I would. When serving your country you feel a lot of pride and camaraderie with fellow soldiers. But, each of us has a limit. Psychologically, it was taking a toll on me," Fennig said.
"It was time for me to pursue another career path," he continued. "Right now, I'm working at Copeland for Securitas, a security company, but in the long term I want to attain a degree in the ecology-criminal justice field, maybe eventually working for the Department of Defense."
Fennig is the son of Susan Lantz, St. Marys, and Lee Fennig, Celina.