By Shelley Grieshop
sgrieshop@dailystandard.com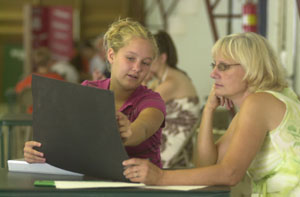 From sewing to raising animals to woodworking and beyond, 4-H has given kids the opportunity to explore a variety of skills and leadership areas for more than 100 years.
Most 4-H projects at this year's Mercer County Fair, except livestock, were judged a few weeks ago at the Junior Fair Building by as many as 14 judges. Results will be revealed when the fair opens Tuesday.
Kids and judges alike say a lot is learned during the creation of each 4-H project.
Ten-year-old Jill Kanney, a young 4-H club member, says she'll gladly trade in her sewing notions for a measuring cup -- any day. Not that the matching skirt, hair scrunchie and pin cushion she made this year for 4-H judging wasn't cute as a button, it's just that she would rather follow in Emeril Lagasse's footsteps.
"Cooking is much easier," says the Coldwater girl following a thorough judging interview recently at the Central Services Building in Celina.
This was the first time the perky Happy Hearts 4-H Club member entered a sewing project.
"I started on it before school left out," she says, which was a lot sooner than many children who spoke to The Daily Standard.
Kanney's cooking project last year -- a homemade vat of cocoa -- netted her an "Outstanding of the Day" award at the Ohio State Fair.
4-H has expanded each year and so has the number of projects. This year, judges reviewed 807 projects brought in by nearly as many boys and girls (805) from 28 clubs across the county.
Ten-year veteran judge Jo McConnell of the Lima area says she enjoys her pre-fair task.
"It's funny to listen to them sometimes, I know they're so nervous," says McConnell, who's been a 4-H judge for about 10 years. "They all have their little imperfections but overall the projects have been very good."
Abby Kramer, 10, of St. Henry, was on pins and needles even though she took the exact same sewing project last year. She came decked out in her project -- a pink flannel pajama bottom with deep-green frogs, and matching house slippers, headband and pillow case.
"When I saw the material, I thought it was cute," she says, adding that frogs are nice as long as she doesn't have to touch the real ones.
Eighteen-year-old Laura Menchhofer of Coldwater entered the Sewing for Others category and hoped to score big with a purple jumper, matching purse and headband, modeled by her cousin, Megan Menchhofer.
"The hardest part was the zipper," Laura Menchhofer says.
The Washington Winners 4-H member learned a lot during judging the last nine years, advancing to the Ohio State Fair four times. Last year the seasoned veteran's project received an outstanding at the state fair.
Mitchell Homan's dog, Star, can be a handful, but the 9-year-old appeared to be on top of things during recent 4-H judging.
"She's a cur," said the first-time 4-H showman of Fort Recovery, by way of explanation of the dog's category and perhaps her adventurous nature.
However, little brother Noah, 4, smoothed things over, noting that Star is not the only representative of how the Homans' dogs behave. "We left our calm dog at home," he advises.
A second brother, Aaron, 6, defends Star saying she only acts up when she sees a small animal. "I hope there are no squirrels in that building," he says, earnestly indicating the Junior Fair building.
Being a cur, Star is a mixture of breeds. Mitchell believes she's part Chow, part German Shepherd, part Collie and part Beagle. Whatever her ancestry, Mitchell's 4-H job has been to complete a lot of reading in his project book on raising dogs, make sure she has regular checkups with the veterinarian and receives a lot of love and some training.
He also spent time shadowing a vet at the Coldwater Animal Clinic where he also walked the dogs.
Finally it's Mitchell's turn before the judge. Aaron and Noah wait in the audience section, probably holding their breath that no squirrel races through the building.
Kristin Hem-melgarn, 13, of Coldwater has done a little of everything during her years in 4-H. This year she chose another woodworking project and built a sawhorse as a gift for her grandpa, Bob Hemmelgarn of Burkettsville.
"No, it's not a secret because I had to use his table saw to make it," says the young blonde carpenter dressed all in pink for judging.
Dad Dwayne Hemmelgarn said Kristin could have made up her own project or picked one from the project book. So she did both.
"It's not quite as shown in the project book; Kristin made some modifications," he said.
She also chose woodworking last year when she made a tool box.
"It's fun," she says of woodworking. "It's an accomplishment."
Plus, it's nice to spend time with dad, her father suggests.
"Yes, that too," she says smiling at him.