By Shelley Grieshop
sgrieshop@dailystandard.com
Two new items at the Mercer County Fair -- a new digital clock in the horse arena and a livestock scale near the swine barn -- are visible memorials to two young 4-H members who died last year.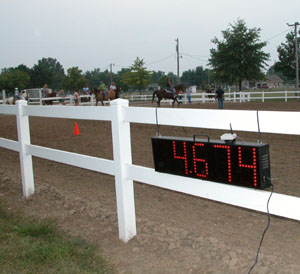 Brittany Shaffer of Mendon and Corey "Chubs" Albers of Maria Stein, who died last October in separate car accidents, will be noticeably absent this week by the many friends and parents they considered their "fair families."
The pair lost their lives in similar accidents just eight days apart. Although their interests were somewhat different, the two were very much alike when it came to 4-H and the fair -- it was their world and this was their week to shine, their families say
"Brittany found her niche here," says Jim VanTilburg as he programed the new electronic timer at the horse arena on the fairgrounds recently.
VanTilburg stabled Shaffer's prize horse, Mandy, at his farm in rural Celina, and took the Parkway Local Schools sophomore and other members of the Trailblazers 4-H club to horse shows each weekend of the summer. "She was like my own granddaughter," he says.
Shaffer was just 15 when the car she was riding in left the roadway and slid down an embankment into a creek near her home Oct. 5. She was ejected from the vehicle and pronounced dead at the scene. She had been on her way home from a school golf tournament.
Her parents, Jim and LeighAnn Shaffer, purchased the new Allegro clock (4-by-1-foot) and wireless console as a tribute to their daughter and a gift to other young riders. A horse stall and plaque dedication is slated for later this week in Brittany's honor.
"Brittany always enjoyed 4-H and FFA," Jim Shaffer says, adding his daughter first showed chickens at the fair. "It was her finest times."
He also recalls his daughter riding on the 4-H float in the Lake Festival parade each year. Family and friends shed more than a few tears as they watched the group ride past during this year's parade.
"I can tell you this, because I know Britt, if heaven didn't have a parade with horses and riders in it before, it did this year," Shaffer says.
On Oct. 13, Albers, 17, was a passenger in a car that slid off a roadway in rural New Bremen. The vehicle struck a utility pole; the driver, David Gerlach of Chickasaw, was pronounced dead at the scene, and Albers passed away two hours later at a local hospital. The boys were en route to Marion Local School from Tri Star classes in St. Marys.
Albers loved raising swine and began showing them in Pee Wee Showmanship competition at the fair as a plaid-shirted third-grader.
"He was such a hands-on person," says his mother, Peg Albers, who years ago lost another son to cancer at age 4. "This was such a happy time of year for Chubs."
The teen always seemed to be surrounded by a swarm of friends, mostly girls, during fair week, his parents recall with a smile. As they recount their son's itinerary during last year's fair -- dashing from the family's camper to livestock shows and two-a-day football practices -- they can't imagine how he did it. But he wouldn't have it any other way, they say.
Soon they find themselves crying as they think about this year's banner fair and the milestones ahead their son will miss -- senior pictures, football games, graduation.
"This year would have been even more exciting for him," his mother says fighting back tears.
Nine groups of co-workers, friends and family members searched for a way to memorialize the young man after his sudden death. A scholarship fund just didn't fit the Junior Fair Board member who treasured his fair ribbons and was more at home on the football field and in the hog barn than in a classroom.
The teen's former baby sitter and friend of the family, Theresa Seitz of rural Coldwater, says she and her husband, Steve, met with the Albers family one emotional evening, and all agreed to donate money toward a much needed digital livestock scale for the fairgrounds.
"This is what Chubs would have wanted," Seitz says.
So, in honor of the Cassella Buckeye 4-H member, the scale and a new livestock holding area was created. Twenty-one yards of cement were poured between two large barns, replacing a stone and dirt floor. A plaque with Chubs' picture hangs nearby.
The boys' father, Mike Albers, says his son was always there for his friends and fellow 4-H buddies. Dad is learning a lesson his son taught him through the years: make the best of each situation.
"Keep positive, that's what Chubs would have wanted us to do," he says.