By Margie Wuebker
mwuebker@dailystandard.com
A Coldwater-area woman en route home from bringing entries to the Mercer County Fair was killed Monday afternoon in a traffic accident.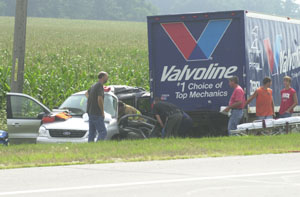 Dorothy Ann Schaefer, 66, 3630 state Route 118, was pronounced dead on arrival at Mercer County Community Hospital in Coldwater shortly after the 4:40 p.m. crash. She drove into the path of a delivery truck at the intersection of Hellwarth Road and state Route 29 west of Celina, the report from the Mercer County Sheriff's Office says.
Schaefer stopped her 2004 Ford Freestar minivan southbound on Hellwarth Road near Rockford Construction Services. Witnesses told the Mercer County Sheriff's Office she then pulled into the intersection, apparently failing to see a westbound 2004 Freightliner straight truck driven by Donald Edward Ray Sr., 59, of Noblesville, Ind.
The minivan, which received extensive damage to the driver's side, was pushed off the pavement at the southwest corner of the intersection.
Celina firefighters and paramedics rushed to the scene, working quickly to free the victim from the wreckage. A waiting ambulance departed with lights flashing and siren wailing en route to the hospital. Ray escaped injury and both vehicles were towed from the accident scene. The accident remains under investigation.
Schaefer had retired in January after working 30 years in the meat department at Chief supermarket in Coldwater.
"Mom finally had time to do the things she always wanted to do," her daughter, Kathy Miller, told The Daily Standard this morning. "Entering projects at the fair was one of those things."
Schaefer reportedly spent the morning baking an apple pie as well as peanut butter and chocolate chip cookies. She also selected a colorful quilt finished with hundreds and hundreds of precise stitches. Pictures and decorative detail filled the attractive scrapbook she hoped would catch the judge's eye.
She brought everything to the fairgrounds and then headed home to prepare supper and to bide her time until today when she would have found out whether the baked goods and fancy work drew ribbons.
"Mom never entered anything at the fair in previous years because she didn't have time," Miller added. "This was to be her first attempt at winning ribbons."
Miller and her family, who reside in Tipp City, were home over the weekend for the Coldwater Community Picnic. They now cling to the memories from those happy hours in the wake of the tragedy.
In addition to quilting and scrapbooking, Schaefer also enjoyed bowling, golfing and traveling.
Her death marks the third traffic fatality in Mercer County this year.
See obituary on page 5A.
Phone: (419)586-2371, Fax: (419)586-6271
All content copyright 2005
The Standard Printing Company
P.O. Box 140, Celina, OH 45822