By Janie Southard
jsouthard@dailystandard.com
Those who know Bigg's Splashin', Flat Iron, Ghoul and Jet Age are a few of the 84 kinds of root beer native to Ohio may also know the basic spices in this frothy brew are sassafras, ginger and juniper berries among others.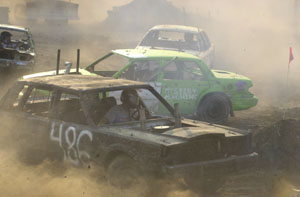 Area root beer lovers also know the Mercer County Fair means the root beer stand will be set up alongside Hopewell Grange just as it has been for 60-plus years.
"Our Aunt Helen (Drake Mowery) put up the money to buy a root beer stand in 1939. Then grandpa and grandma (Homer and Lucille Drake) went in with her. At one time they had the stand set up in their yard in Mendon," Paul Germann says as he and his sister, Kathy, set up the family's root beer stand for this year's fair, which opened Tuesday.
The Germanns already have loaded up with 500 pounds of sugar to make several barrels, which will be used for a simple syrup (sugar and water). Then it's mixed with a root beer concentrate plus some secret ingredients.
"In this record book it shows grandma bought 500 pounds of sugar in 1941 for $29.25. We just spent $200-and-some for our sugar," says Kathy Germann, thumbing her grandparents' old accounting book. The Drakes moved back and forth from Mendon to Van Wert several times and set up the stand at many fairs and other area gatherings, according to Paul Germann.
After a while the family acquired another stand (1948) and Aunt Helen branched out on her own with an orange-colored stand, which many people remember at the local fair. In 1964 Uncle Fred Drake bought into the business and a decade or so later Paul Germann bought the original stand and helped out with Aunt Helen's stand too.
Seven years ago he bought her stand and now he and sister Kathy are the only two family members running the root beer stand.
Not too long ago, they added hot dogs, Coney dogs, iced tea and fruit punch, plus root beer floats. But no diet root beer because Paul Germann has found "no good way to make it."
The Germanns only recently discovered they needed a food license but not because of the hot dogs.
"It's the root beer. The state considers it a food. But, for the ice cream and hot dogs we did have to get a commercial refrigerator," says Kathy Germann, adding she and her brother always enjoy working the stand, even when things don't run smoothly.
At a fair one year, they were using city water to make the root beer.
"Well, they had just chlorinated, and I had a time getting that taste out of the root beer," Paul Germann says.
Another time, in Napoleon, he was mixing 30 pounds of sugar and many gallons of water to make a syrup when the electrician came to fix the night light on the root beer stand.
"I stepped outside to talk with him. It must have been longer than I thought because I looked over and there was water running out of the trailer -- sugar water," he says. "I mopped the floor five times, and you could still hear your shoes sticking with every step."
The Germanns claim they've probably met "millions of people" and for the most part the public has been nice.
"Oh, you get an obnoxious one every now and then, but basically people are very courteous," Kathy Germann says.